Braves boys soccer remains winless after 8-0 loss at Mill Valley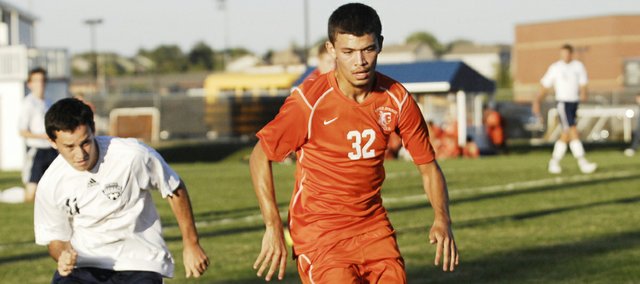 Photo Gallery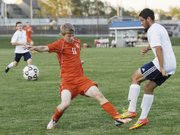 Bonner Springs boys soccer
The Braves fell to 0-5 after a 8-0 loss at Mill Valley on Sept. 11. Bonner Springs will have a chance to end its skid with three home matches next week.
Entering halftime on the road at Mill Valley down just one goal, the Bonner Springs boys soccer team was still very much in the match, their first victory of the season still possible.
Just 12 minutes into the second half, that hope began to fade quickly.
Despite an all-world effort by junior Austin Schuler and steady play by senior Jason Van Maren, the Braves surrendered seven second-half goals en route to an 8-0 defeat.
"It just comes down to people not doing what they're coached to do," Bonner Springs coach Mike Moulin said. "We put (the ball) in the air too much tonight, and didn't play it at our feet. We also couldn't win the 50-50 balls."
Many of the Braves, Moulin said, don't play soccer year-round, leading to a lack of an understanding of the game's fundamentals. The Braves (0-5) have been outscored 18-0 in their last two matches, their Sept. 6 10-0 loss against Bishop Miege being the first time Moulin had a varsity team give up 10 goals.
One sliver of hope that could be gleaned from Tuesday's lopsided decision was that it'd be the last time Bonner Springs would need to ride the bus for nearly two weeks. At 6 p.m. on Thursday, the Braves begin a three-game home stand when they host Bishop Ward, with matches next week against Lansing (Monday) and Perry-Lecompton (Wednesday).