Bonner Animal Rescue marks great growth in 2012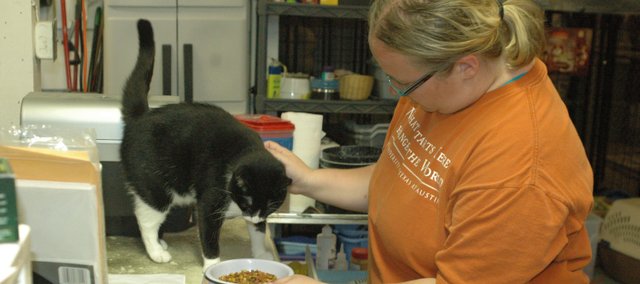 With a facility of their own and community volunteers at the ready, Bonner Animal Rescue's organization has grown in leaps and bounds in the past year.
Also know as BAR, the not-for-profit group secured a facility to provide an animal shelter, worked with the city to create a cooperative relationship to find homes for unclaimed, impounded cats and dogs, and is becoming known as a source for those looking to adopt a pet. Janet Crouch, BAR spokesperson, said its members hope it becomes even more well-known in the Bonner Springs area.
"As a volunteer organization, we want to make sure that as we move on, there's more volunteers to take our place and help it grow and become a big part of the community," she said.
BAR Bingo
The fundraiser is set 7-9 p.m. Saturday, Sept. 22, at Bonner Springs United Methodist Church, 425 W. Morse Ave. For a $10 donation, attendees get a Sloppy Joe dinner, beverage, dessert and a bingo card with the chance to win prizes. For more information, contact BAR at 913-449-7328.
Bonner Animal Rescue was founded in 2010 by Lisa Bruce, Susan Dean and Darla Hicks, with the goal of helping save unclaimed stray cats and dogs from euthanization. They quickly realized the need for the organization was greater than they believed, and they created a pet foster care network with several volunteers.
But the greatest growth has occurred in the last nine months.
Late last year, they negotiated with veterinarian Paul Slyter to move into extra space at his clinic, Bonner Springs Animal Care Center, on what they thought would be a temporary basis.
Almost immediately, they learned about a hoarding situation in which a Bonner resident had accumulated 27 dogs and 72 cats, and they used their new space to find homes or other lodging for eight of the dogs and 45 of the cats.
"We weren't sure what to do after that, but when (Slyter) came in and saw our work ethic and what we would do … he realized it would be a win-win," Crouch said.
So they came to an agreement to use the space as a permanent home and obtained a state shelter license in February. This supported their efforts to work with the city as it considered changing its animal control policies early this year.
The city now transfers all unclaimed, impounded animals to BAR once they have been held by the city for the requisite number of days, meaning most pets would be euthanized only by court order or due to disease. Crouch said of 34 unclaimed dogs so far this year, only three had to be euthanized, and of 80 unclaimed cats, 12 were euthanized.
B.A.R. also helps the city publicize impounded pets, networking through Facebook and Petfinder and the city's website.
"We have had huge success in reuniting impounded dogs and cats with owners, not only from Bonner Springs but also from other communities in the metro," Crouch said.
A total of 129 cats and 58 dogs have come through or stayed at BAR's shelter since the start of the year. Every pet brought into the shelter is vaccinated, checked for heartworm (dogs) and FIV/Leukemia (cats), spay/neutered, dewormed and flea treated. They also get a health check before being adopted.
"We make little to no money off our adoptions fees," Crouch said. "All of our funds come from fundraisers and the generous donations of our sponsors and community supporters."
Which is why BAR fundraisers can be seen often around town. The next is a Fall Bingo Fundraiser, set for Saturday, Sept. 22.
They also are working on the construction of the Clayton McCulley Memorial Kennels and Dog Park at their facility in honor of McCulley, a BAR volunteer who was killed in a car accident in early May.
BAR continues to bring adoptable animals to the Shawnee PetSmart every Saturday, and more than 20 regular volunteers and fosters clean and care for the pets in the shelter twice a day. Though they don't have regular hours of business, volunteers are onsite most mornings and evenings and by appointment to assist potential adopters.
"It's very exciting and very rewarding to see what we've accomplished just in the last nine months, and it's exciting to think what we would be if the community rallies and sticks with us," Crouch said.