Bobcats turn focus toward district play after lopsided loss at Mill Valley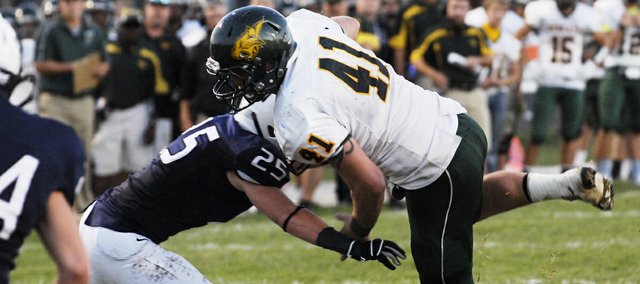 Photo Gallery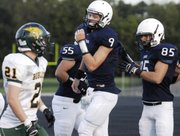 Football: Mill Valley 46, Basehor-Linwood 6
Mill Valley quarterback Skyler Windmiller ran for five touchdowns and threw another as the Jaguars (2-1) defeated Basehor-Linwood 46-6 on Friday, Sept. 14.
SHAWNEE — Stretch zone read. Stretch zone read.
Basehor-Linwood football coach Steve Hopkins repeated the phrase in the chill of an empty stadium at Mill Valley High School, repeating it as only would a coach who had seen his opponent run all over his team with it.
Mill Valley senior quarterback Skyler Windmiller scored six touchdowns — five on the ground — the bulk of which came on fake handoff keeper plays, as the Jaguars (2-1) defeated the Bobcats 47-6 on Friday.
Windmiller finished with 167 rushing yards on 22 carries, and completed 8-of-13 passes for 187 yards — including a 24-yard second-half touchdown pass to senior L.J. Hatch.
"This was a rout," Hopkins said. "Tonight we didn't compete well enough against an excellent team. Now, are we good enough to bounce back and play better this coming Friday? That's going to be the question."
For the first time in a while, Basehor-Linwood starts the season 1-2, losing consecutive games to league opponents with high voltage offenses. In recent seasons, the Basehor-Linwood vs. Mill Valley game decided the Kaw Valley League.
"Anytime you win like this, it's big for your team confidence-wise," Mill Valley coach Joel Applebee said. "But seriously, our goal is to play our best football by week nine. Each week is going to be a test for us."
Since losing its home opener 42-21 at Class 6A Manhattan, Mill Valley has outscored its first two KVL opponents 103-13.
This year's showdown with Basehor-Linwood continued Mill Valley's separation from the pack and reaffirmed this year's Bobcats' focus on district play as its path to success.
"Everything we do will be pointed toward districts," Hopkins said. "Kaw Valley League's over, so we're focused toward districts."
Basehor-Linwood actually forced a turnover-on-downs deep in its own territory on Mill Valley's first possession after senior Caleb Hiss swatted down a Windmiller pass in the end zone. But taking over at the 3-yard-line proved too tall a task as the Bobcats were forced to punt out of the end zone on third down to avoid a safety.
The Jaguars built an early 14-0 lead off two Windmiller runs. These weren't your one-yard QB keepers, either.
Windmiller put Mill Valley up 7-0 with a 27-yard score on the team's second possession, and later carried both times on a short two-yard scoring drive set up by the first of senior Blake Miles' two interceptions.
For all the inevitable talk that will follow Windmiller's performance, equal parts praise will be owed to Mill Valley's defense, which held the Bobcats under 150 yards.
"Mistakes hurt us and they hurt us," Hopkins said.
Basehor-Linwood senior Tanner Garver was picked off three times and completed 6-of-16 passes for 87 yards. Mill Valley got to Garver for four sacks and limited the Bobcats' rushing attack to just over three yards per carry.
Applebee called Miles and senior Tim Thomas the "players of the game" after Miles' pair of interceptions and Thomas' penchant for bringing down Garver in the backfield.
Basehor-Linwood senior Drew Potter, who led the Bobcats with 89 rushing yards, scored his team's only touchdown on a three-yard run in the second quarter.
Mill Valley carried a 26-6 advantage into the half and came out firing again in the third quarter, when Windmiller found Hatch to put the Jaguars up 33-6 just three minutes into the second half.
Basehor-Linwood made a run at getting back on the board on its ensuing drive. Facing fourth-and-7, Garver completed an eight-yard pass to senior Ben Johnson to keep the drive alive. Johnson would finish with a team-high four receptions for 65 yards.
But three penalties doomed the drive — a chop block, false start and holding call well away from the ball — and set up a fourth-and-20 the Bobcats couldn't convert.
Finally, Mill Valley backup quarterback Ty Bruce capped the evening's scoring by carrying all eight plays of a 71-yard scoring drive … punctuated by a stretch zone read.
Basehor-Linwood will try to regroup by Friday when it travels to Lansing. Mill Valley will also hit the road, continuing league play at Tonganoxie.
Late in the game, Basehor-Linwood junior Gage Wiser went down with a leg injury and had to be carted out of the stadium.
Wiser being the Bobcats' only kicker, Hopkins hosted tryouts this week for who will kick off against the Lions at 7 p.m. on Friday.