Braves stay unbeaten in home opener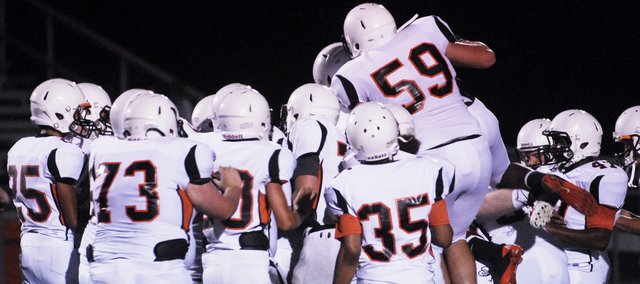 After Friday's Homecoming game at David Jaynes Stadium, the Bonner Springs football team could have tallied up all the missing points from the scoreboard while considering the night an aberration.
Instead of trying to forget the somewhat lackluster performance, Bonner Springs (3-0) left with heads and fists high after defeating Bishop Ward (0-3), 23-7. This game could have easily been 46-7 if the Braves wanted, but there was hidden satisfaction that came through in coach Lucas Aslin's grin.
"I love it," he said. "I take away a win, I take away guys played hard."
This game, Aslin told his players, reminded him of last week's major upset in college football when Louisiana-Monroe stunned No. 8 Arkansas. Arkansas, if everything went as planned, should have won. They simply had the better team, but football doesn't always work like that.
As the Braves found themselves with a mere 7-0 halftime lead against the struggling Cyclones, the players learned that a superior team does not show up and win just because it is expected. Effort, focus and execution are all part of the process, and it took a while for Bonner Springs to find them.
"We came in thinking this was an easy win, which is why we didn't score as many points as we did," junior running back Jared Knerschield said. "In the second half, we got it in our hearts and minds that we were going to go out there and beat them, and we did."
Part of the low-scoring first half could have also been because the Braves weren't on their normal game plan. Aslin said that the team wanted to work on certain packages, and it didn't necessarily translate to good plays on the field. Junior quarterback Jordan Jackson threw an early interception and the ground game couldn't break off the outside. The offensive penalties didn't help either.
The third quarter went back to the usual playbook.
The Braves opened up the second half with six inside runs, ending in a 17-yard Jackson touchdown. The Braves scored on their next two drives while the rock-solid defense forced multiple three-and-outs. At that point, Aslin gave younger players some varsity experience, which explains the sloppy end to the game. Other than the final touchdown in garbage time, the Braves defense showed no resistance, and senior linebacker Matt Call and junior lineman Austin Goodin helped make the Cyclones' running attack useless.
Jackson had a sub-par night throwing the ball, but had 69 yards and two scores. Knerschield found 146 yards on the ground, most coming in huge chunks in the third quarter.
This game was the type of grimy game that makes good teams better, but looking ahead for Bonner Springs is daunting because there will be little room for error.
"The next three games are a Murder's Row for us," Aslin said.
Next week is at Piper, then two home games against Mill Valley and Basehor-Linwood, who have all had impressive victories so far this season. In the Kaw Valley League, Bonner Springs is at the top because it hasn't lost a game, but can't play as it did Friday and expect to defeat those teams.
The coaches and players know this. Aslin is looking forward to practice.
"The great thing is you come out with a good win and you can learn from it," Aslin said. "Then I can start yelling at them this week and they have to listen."