Basehor-Linwood volleyball improves to 3-0 in league play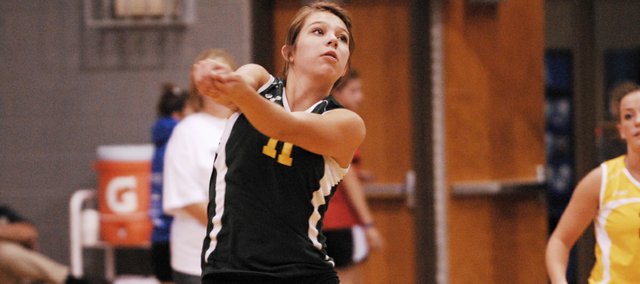 When Basehor-Linwood volleyball coach Amy Irvin chose to field three freshmen on this year's varsity roster, she figured one of two things would happen.
Either her four seniors and two juniors would be distant toward the new blood, or they'd mesh into a team capable of capturing the league crown that just eluded it last year. The latter has the Bobcats 3-0 in league play, with sights firmly set on that goal.
"My upperclassmen have been amazing in knowing that (the freshmen) belong there," Irvin said. "The team wouldn't be the same without them. The same thing with my underclassmen — they know the upperclassmen are the leaders of the team. They know they have to push hard if they want to maintain their positions."
With a tough road match on the horizon next Tuesday at Mill Valley, Basehor-Linwood earned a third-straight Tuesday night league victory in straight sets against Bishop Ward (25-12, 25-21, 25-19).
Basehor-Linwood cruised to an early victory in the first set, taking a 20-5 lead before sealing it at 25-12 when a Cyclones serve sailed out of bounds.
The Bobcats saw production from freshmen Madi Osterhaus and Jamie Weible. Osterhaus notched six kills on 16 attempts and added two blocks — senior Jamie Johnson and Samantha Rutherford each also added two blocks. By night's end, Weible led the team with seven digs. The final two sets against Bishop Ward were played much tighter, with each team trading ties and lead changes from the outset. The Bobcats finally broke open the logjam with four-straight points to go up 18-14. Basehor-Linwood allowed the Cyclones to pull within 22-21 before scoring the set's final three points.
The third set began similarly until Bishop Ward got out to an 8-5 lead, its largest advantage of the night. Basehor-Linwood turned it around soon, though, reclaiming the lead off an error by Bishop Ward, and gaining its biggest lead of the set at 13-9. The Cyclones wouldn't challenge the Bobcats' lead from that point. Sophomore Abbey Mellies added six kills on 10 attempts and three blocks. Junior Allison Heinen recorded three kils, and senior Haley Waters had four digs.
Irvin said the Bobcats have let up after commanding opening set performances at times this year, allowing opponents to claw back in ensuing sets. But she said a practice schedule rife with simulated pressure scenarios continue to have the girls battle ready.
"If we lose a game, it won't be due to lack of talent," Irvin said, an echo of sentiments expressed at the beginning of the season. "It will be due to lack of focus, lack of intensity, lack of drive, really, to put away our opponent."
Added senior Brandi Stahl, who led the Bobcats with seven kills and one ace: "We just kind of let go a little bit. It will help us in practice, especially for next week."
By next week, Stahl was again referring to Mill Valley, although it doesn't take much to get Basehor-Linwood up for Tuesday night league play.
"All of us feel more pressure on Tuesday night league games," Irvin said. "You know it's make it or break it every Tuesday night."
Basehor-Linwood will travel to play in the Louisburg Invitational at 9 a.m. Saturday before going to Mill Valley for a league match at 6 p.m. on Tuesday.