Hunt, Ricci-Weller emerge as Braves' top doubles team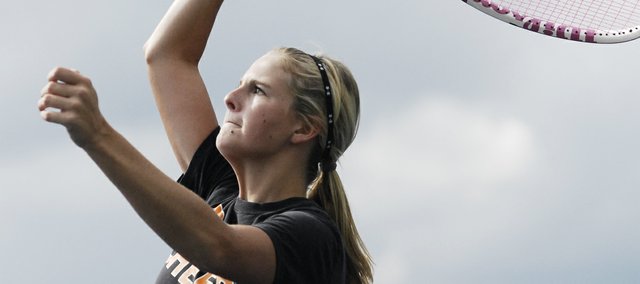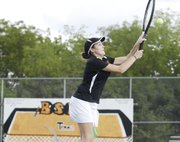 Spend 34 years coaching anywhere, you're bound to encounter the occasional down season. So it is for Bonner Springs tennis coach Bill Scott, whose new-look girls team has experienced fits and starts this year.
"I've probably had four or five years like this," Scott said. "You've just got to bite the bullet."
Gone from this year's incarnation is all but junior Hannah Hunt, who notched only limited varsity experience a year ago.
A familiar face in the program, missing last year, is back, though, and has brought encouraging returns since being paired with Hunt as the Braves' No. 1 doubles team. Since spending her junior season away from the team, senior Sammy Ricci-Weller is back for a final year. Though signs of rust inevitably surface, Ricci-Weller co-authored a surprising chapter in this season's narrative all within her first match alongside Hunt on Saturday.
Paired together for the first time at Saturday's Mill Valley Jaguar Invitational, Ricci-Weller and Hunt had the task of debuting against one of the state's best teams. Jessie Alexander and Zoe Larson of Blue Valley — ranked by coaches in the Class 5A top-five all season — opened the tournament against Ricci-Weller and Hunt Saturday, and would be in for a surprise.
The Braves were able to force Alexander and Larson into sending numerous lob shots, which Hunt put away at the front of the net. By the end of the match, Ricci-Weller and Hunt forced a tiebreaker before walking away with a surprise victory. The two team captains were unable, however, to avenge a weekend loss against Maranatha Christian Academy's Megan Bowlin and Bailey Kroening, falling 8-2 at Bonner Springs on Monday.
The Braves lost the dual meet overall 6-3, including a victory by No. 3 doubles Alexus Tendick and Cassie Stock against Gionna Eden and Natalie Marmon 8-5. Over time, Scott has grown accustomed to sending at least a few boys and girls tennis players to state each year. That appears more difficult a task this season with a greener girls team, one that Scott said is without many year-round players.
"I'm looking for multi-sport girls who know what it means to compete and hustle," he said.
Missing from summer weekly tennis nights are many of the girls team members, who often instead pick up a racket for the first time in awhile just before the season.
That, and the turnover between last season and this one, had Scott hedging expectations for the Braves this year.
"I didn't think we had a prayer," Scott said. "And then we upset the Blue Valley girls."
Scott thinks that victory may allow Ricci-Weller and Hunt to grab a slot at regionals. For Ricci-Weller, who said she wanted to end her senior tennis season with a bang, the upset victory also had her adjusting expectations.
"My goal coming into this year was just to have fun," she said. "Now that it is going this way, state is in my sights."