Public invited to Bonner farm for 'Alpaca Days'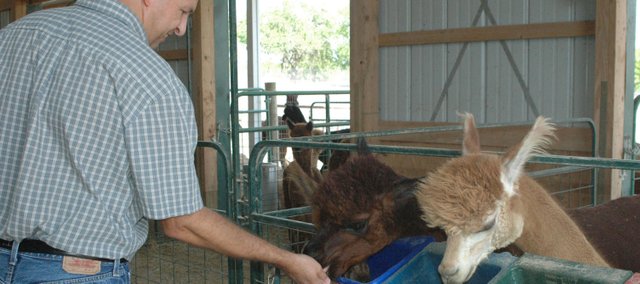 In the past few years, Brian and Sharon Heimes have made a considerable change in lifestyle, from suburbia-dwelling physicians to alpaca breeders on a 106-acre farm.
Just west of Bonner Springs, the couple has founded their "early retirement plan," which they call Manna Meadows, with a herd of 31 alpacas — cousins to the llama and native to South America. The Heimeses plan to open their farm to the public Sept. 29 and 30 for Alpaca Days, an effort of the Alpaca Owners and Breeders Association to educate the community about the relatively new and growing alpaca fiber industry.
Alpaca Days
10 a.m. to 5 p.m. Sept. 29 and noon to 4 p.m. Sept. 30, 16842 Metro Ave, Bonner Springs. Activities including crafts for children, spinning and weaving demonstrations, hayrack rides and more. Also available for purchase will be concessions, alpaca products and gifts and honey produced on the Heimes' farm.
Macel and Bruce Koerth's Tonganoxie farm also will be open for Alpaca Days, 10 a.m. - 3 p.m. each day, 22925 Hemphill Road, kawvalleyalpacas.com.
Brian Heimes spent his early years on a farm, but his family moved to the city when he was 10.
"Never thought I'd go back; never looked back when we moved to town," he said.
The couple and their daughters were happily living in Lenexa until 2000, when they visited some friends who lived in the country. They got a "bug" to move to a more country-like setting and soon bought land north of Kansas Highway 32 at 166th Street and Metro Avenue.
About the same time, Brian Heimes was watching infomercials late one night and ran across one about alpacas.
"And I thought 'Those are really cool,'" he said.
So they spent 10 years visiting alpaca farms, learning about alpacas and "falling in love" with the animal, as Sharon says. In their research, they learned about a growing demand for alpaca fiber, which can be used much like sheep's wool but is considered to be softer.
The animals were first commercially imported to the United States in 1984, and now there are about 160,000 registered in the country. There are a few other small alpaca farms in the area, including Kaw Valley Alpacas in Tonganoxie, which also will open for Alpaca Days.
The Heimeses moved to their property permanently about three years ago and bought nine alpacas. Through additional purchases and breeding, they now have a herd of 31. Just seven acres of their farm is dedicated to the alpacas, so there is room to grow, although they think if the herd grows beyond 50 animals, they would need to hire more help.
Although their focus is on breeding and selling, the Heimeses still have to shear the animals annually, which means they have to find something to do with all that fiber. This can be difficult, as large mills won't take the fiber in small batches. The Heimeses have found one small Midwest mill that will take their fiber, as well as knitters who want the raw material. They also have learned how to use it for felting and other crafts, which they will include in their Alpaca Days activities.
This will be the second Alpaca Days at Manna Meadows. They didn't do much to promote the event last year but they were surprised at the turnout.
"It was so neat because so many people in the community came and thanked us for having this event for the community," Sharon Heimes said.
Brian continues to work as a physician at St. Luke's Hospital in Kansas City, Mo., as they grow their herd and discover other country distractions — for Sharon, a hen house with 14 hens and a rooster, and, for Brian, five beehives, something he learned about in his youth but never thought he'd be able to put into practice. The products of both will be available at Alpaca Days.
These side hobbies remind them why they called their farm Manna Meadows. In addition to it being a combination of the names of their daughters — May and Anna — the couple say they often are reminded of the biblical interpretation of the word.
"We consider this a gift from God, getting to do this," Sharon Heimes said.
"We're doing a lot of things that we never thought we'd get to do," Brian added.