YouthFriends mentor is more than academic aid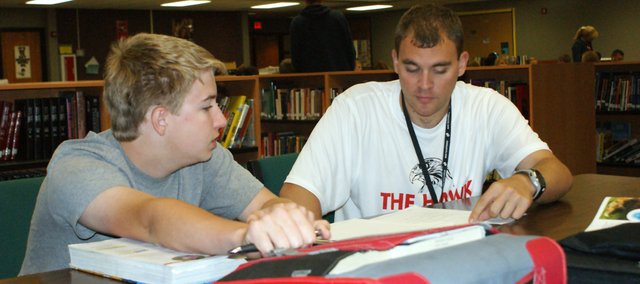 When the YouthFriends float passes by during the Homecoming parade next week, it will not only honor Donnie Dempewolf as the top district mentor, but also the success of his five-year mentorship match.
Basehor-Linwood High School sophomores Clark Briscoe and James Blauvelt originally asked for a YouthFriends mentor in sixth grade because they wanted help with homework. But after five years of mentorship with Dempewolf, it's become a lot more than academic support.
"He's been a friend," Blauvelt said.
Dempewolf had his own YouthFriend mentor when he attended Santa Fe Trail High School near Carbondale, and when he moved to the area, he wanted to become a mentor, he said.
Working around a hectic schedule as he studies to earn his nursing degree, Dempewolf meets with Blauvelt and Briscoe every Tuesday and Thursday morning, doing homework, catching up on one another's lives and eating lunch together. Dempewolf asks how Blauvelt's cross country race went last weekend; Blauvelt asks Dempewolf how his date went.
Blauvelt said it was Dempewolf who got him interested in running in middle school, and the two occasionally run together and have even competed in a half-marathon together.
"He beat me," Dempewolf added.
For Blauvelt, having someone to talk to who's close to his age with similar life experiences and is also going to school makes a big difference, he said.
Both Blauvelt and Briscoe agree that the mentorship has helped them come out of their shells. They've taken steps on their own to branch out into new activities — Blauvelt with running and Briscoe with student council — that they probably wouldn't have otherwise.
"It's a cool feeling to be an inspiration in their lives," Dempewolf said.
A match like Dempewolf's is ideal, said Tammi Potts, YouthFriends District Coordinator. He started with the boys in middle school and will follow through until they graduate.
Having that constant support through high school is an important aspect, Briscoe said. Meeting with Dempewolf provides something to look forward to and something to break up the week.
If the students are struggling, frustrated or need help, they can count on their mentor, Potts said.
"They are an advocate for that child," she said.
The cornerstone of YouthFriends is to provide a positive and supportive person to help students academically, Potts said, but often the mentor has more to teach than he or she realizes. They offer friendship, advice and valuable insight from their own lives. In addition to helping students through homework assignments, essays and projects, they also help students organize their time, priorities and responsibilities.
"That's one of the most important skills they can walk away with," Potts said.
For more information about YouthFriends, visit youthfriends.org.