Digging up roots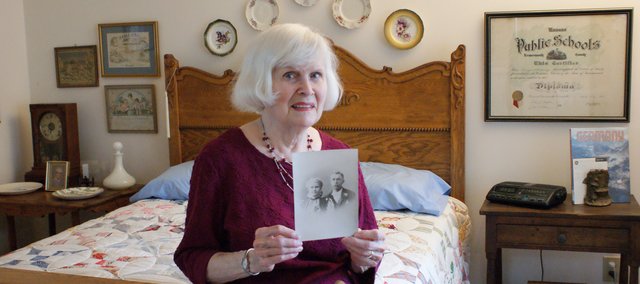 Celebrities' adventures in tracing family history have been documented on the television show "Who Do You Think You Are?"
Although area residents don't get as much assistance as the stars on the show, some have found success tracing their ancestry and helping others in better understanding theirs.
Linked to the Declaration of
Independence?
Ben Myers sits at a table in his home, family photos and documents dating back to the 1800s at his fingertips.
He was born in 1928 in Jewell County in north-central Kansas before moving to Nebraska after his father's death the next year.
His grandmother, Emma Josephine Morris, helped raise him and his siblings with his mother. Emma's father, Philip R. Morris, who lived in Illinois, served during the Civil War.
Philip's great-great uncle?
Robert Morris, one of the signers of the Declaration of Independence, Myers says, according to what his grandmother had told him.
His son, Gary Myers, has been researching the family's history for four years and hasn't yet connected the dots to Robert Morris, but did find 1860 census information from Numda, Ill., just northwest of Chicago, that listed Philip R. Morris and Ben's grandmother. Other documents indicated Philip died in Lake Providence, Miss., near Vicksburg, during the Civil War while serving as a corporal in the 95th Illinois Infantry, Gary said.
"It's a work in progress," Gary said of researching family history. "I don't know that it ever ends, honestly."
Gary, a 1966 Tonganoxie High School graduate now living in Centralia, Mo., has traced his family roots to New York through his research. He said some records require extra work, such as a census from 1840 or earlier. He said the name of the head of household is listed with tick marks for other members of the family and marks to indicate whether there were slaves in the household. He also found records in which black residents were free or slaves.
"I think it's good to understand our past and where we came from and have a recognition of that," he said.
Completing a baby book
Richard Wellman was filling out his first son's baby book in 1965 when he realized he didn't have all the information he needed.
He didn't know his grandparents' names.
"They were deceased before I was born," Wellman said. "That was kind of the beginning."
Since then, Wellman has traced his family roots most recently to farmsteads in Jefferson County — land near what is now Wellman Road, named after his great-grandfather Harrison Wellman.
Wellman, who is a history research volunteer at the Baldwin Public Library, has researched through census records, the Internet and other documents to map out his family's branches. He discovered that his family settled in Kentucky before moving to Iowa before they were states. His family moved to Kansas the year it became a state — 1861.
Wellman, who also is a member of the genealogy societies in Douglas and Jefferson counties, has indexed several years of births, deaths and marriages in Baldwin. For the Jefferson County Genealogy Society, he is editor of the group's newsletter.
He said the availability of information has changed dramatically since he started researching his ancestry, especially with resources available online.
Helping record history
More than 20 years ago, Beth Enloe started volunteering at the Bonner Springs Library where she was sorting through old photos and other records in an effort to organize pieces of Bonner Springs history.
While volunteering at the library, Enloe had a conversation with two women disagreeing about where a former Bonner Springs business stood years before.
A couple of weeks later, she uncovered information about the business through newspaper articles.
Since then, she's been indexing vital statistics from 1896 to the present with information gleaned from the Bonner Springs Chieftain newspaper.
Enloe, who has an interest in her own genealogy, said the index allows library visitors to gather information, such as birth and death announcements, about family members.
"Oh yes," Enloe said. "People use it all the time."
Grandmother's tales
As a young girl, Carrie Kirk heard stories from her grandmother about her childhood. Born in Leavenworth County, Kirk's grandmother was the daughter of immigrants.
"It think that kind of got me started," Kirk said about her interest in genealogy. "Although I must say I didn't do it for 40 to 45 years."
She's now been researching for more than 40 years and recently returned from a trip to New York visiting museums and cemeteries researching descendants.
Research has helped her trace her ancestry to Germany. Her great-grandfather, Klaas Klinkenberg, had five sons. He didn't want his sons to be "cannon fodder in Germany," so they left for America in 1871, Kirk said. She said her great-grandfather had to prove he had served in the military before being granted permission to leave.
Kirk, who lives in Overland Park, has done work to help others search history. She volunteers for the Basehor Historical Museum Society and has indexed the Fairmount Township federal censuses from 1870-1940 and state censuses from 1865-1925.
She also volunteers at the National Archive in Kansas City, Mo.
Last week, a woman who was born in England wanted to see the passenger list from when she came to America in 1946. Her parents met in England while her father, an American soldier, was serving during World War II.
Kirk said the woman was listed on the first sheet of that ship's passenger list, Kirk said, with her mother and brother. Her father already had returned to the U.S. They also discovered draft registrations for the woman's grandfather for World War I at the National Archive.
"She left very happy," Kirk said.
Part of American history
Marsha Bennett has researched her family's genealogy as a way to connect to American history.
"I like American history and I kind of want to know how our family fit into that picture," she said, "find out how we fit into the whole scope of American history."
Bennett, who is community relations manager at Johnson County Library, said tracing her family's history has uncovered interesting findings.
A great-grandfather owned a meat and poultry shop and then, according to a later census, was a saloon keeper in St. Louis. A second cousin has an engraved silver tray that the mayor of St. Louis gave to her great-grandfather. In addition, her grandfather ran a restaurant, as did her father. Family members on her mother's side generally were carpenters and woodworkers.
"It's that trickle-down thing," Bennett said. "It's interesting to find out what their occupations were."
Her mother's family came to America from Sweden, while her father's side has its roots in Germany. Bennett said a great-grandfather on her mother's side came to New York with $5 in his pocket.
"You couldn't come unless you had a place to live or a job," Bennett said.
Her great-grandfather and his immediate family had a job lined up with family in Redwing, Minn. From there, his family moved to the Kansas town of Cleburne, in Riley County.
Connecting the dots to native countries can come with some extra work. In Sweden, "son" was added to the last name of a man's son. For example, Lars would be the father's name and Larsson the son's last name, Bennett said.
"It can be very time-consuming," Bennett said about genealogy research. "I can see why more people do it when they're retired. Computers and online databases make it so much easier and more addictive."