Veterans share military experiences with students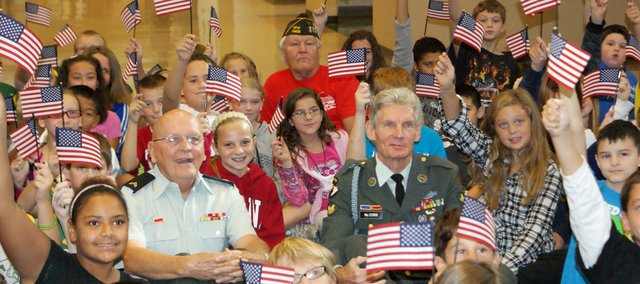 Fifth-graders at Basehor-Linwood Intermediate School sat captivated as several local veterans shared their service stories Friday morning.
As part of a monthlong program, members of the Basehor VFW post will visit each week to teach students about different wars, military service and patriotism.
American history teacher Michelle Ablard, who organizes the visits, said it's an interesting way for students to learn about U.S. history and also fosters citizenship.
"They've always heard about freedom, but it's nice to hear from someone who's fought and paid the price," she said.
On Friday, VFW Senior Vice-Commander Phil Jenkins introduced two Vietnam veterans, Tom Steele, who served in the Navy, and Steve McGown, who served in the Army.
Steele, who served from 1964 to 1968, told students it's a common misconception that everyone in the military is directly involved in combat. Steele said he was in one of the earliest groups to enter Vietnam, and it takes a lot of preparation to arrange for the necessary supplies for troops to live, work and fight in a foreign country. During his service, Steele worked with large and small arms, as well as the transportation of troops and supplies.
McGown, who served a one-year tour in Vietnam in 1968, filled a row of desks with military garb, medals and everyday combat necessities, such as C-rations and canteens, for students to browse. Despite the many medals he earned for his service, McGown explained to students that Vietnam veterans weren't treated with respect when they returned from war. He encouraged them to appreciate those who fought for their country by honoring the flag and national anthem.
Ablard said the veterans' visits are an important part of the curriculum for fifth-graders, who are learning about the Revolutionary War and Declaration of Independence.
"It's important for them to see it didn't just stop there," she said.
For Ablard's class, working with veterans doesn't stop with the fall program. Throughout the year, her class hosts a biweekly bake sale to raise money for Wreaths Across America. Last year, her class raised $3,400 to buys wreaths to lay on veterans' graves.
Ablard said that after fundraising for Wreaths Across America is finished in November, the proceeds of the bake sales will go toward sending a local veteran on an Honor Flight to Washington, D.C.
Through the projects, students enjoy interacting and learning from the veterans, Ablard said, but it's also an outlet to show veterans the respect they deserve.
There will be three more visits throughout September and October, Ablard said, including a Gulf War Air Force pilot and a Red Cross official who will talk about women's rights in the Middle East.