Bobcats run over Lansing, 44-20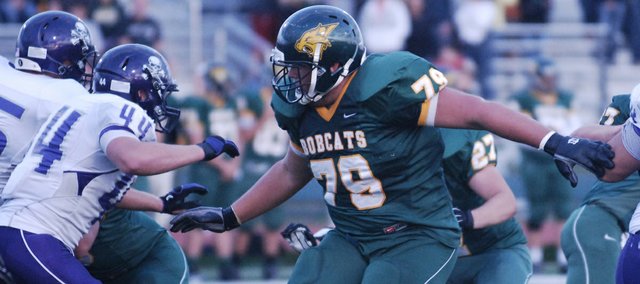 Basehor-Linwood returned to the type of football it set out to play this season, racking up 257 total rushing yards against Lansing and returning to the win column in the process.
Senior Drew Potter led the ground attack with 118 yards on 16 carries and three touchdowns. Meanwhile, senior quarterback Tanner Garver added another pair of scores and carried 19 times for 64 yards as the Bobcats (2-2) earned a therapeutic 44-20 victory on the road Friday.
"We needed to get back to being a physical football team," Basehor-Linwood coach Steve Hopkins said.
Caleb Hiss took an interception return 70 yards back for a touchdown to highlight the Bobcats' early scoring, and Basehor-Linwood led by three scores at halftime.
Key to the Bobcats' renewed ground attack, Hopkins said, was the team's strong play in the trenches Friday.
"Our offensive line dominated their defensive line," he said. "That's what we need to do so we can run the ball and choose spots where we want to go. Tonight, if our quarterbacks got sacked, it was because they held on too long and got greedy."
Junior Jake Phillips also rushed for 40 yards on six carries. Phillips and Potter also handled kicking duties on Friday, with Phillips taking a few extra points (2-of-2, one of which was backed up five yards because of a penalty) and Potter successfully handled kickoffs six times.
The duo emerged as the top two fill-ins for kicker Gage Wiser, who was banged up late in a 47-6 loss at Mill Valley last week. But Hopkins said Wiser, who had to be carted off the field well after the game, experienced no structural damage and is on pace to return next week.
Garver and senior Zac Hevel continued to split duties behind center, and although the two combined for just 14 pass attempts, Hopkins suggested that was even more than he wanted the Bobcats to attempt.
While Garver did most of his damage on the ground, Hevel completed 4-of-7 attempts for 41 yards and one interception. Hopkins said Hevel strung together a couple of big completions, including a 20-yard pass on a scoring drive late in the first half.
Senior Ben Johnson led all Bobcats receivers with three catches for 39 yards. Johnson, who finished with five total tackles, also came up with Basehor-Linwood's lone sack.
Junior Cory McCleary led the Bobcats with 17 total tackles, followed by Phillips, who also came up with an interception.
"It was really big to get back to playing good defense," Hopkins said.
The Bobcats' varsity squad allowed just 14 points before Lansing added its final touchdown against Basehor-Linwood's second-stringers. Perhaps most importantly, Basehor-Linwood avoided the injury bug on Friday. Though nice to end the team's first two-game skid in years, Hopkins said Bobcats players still knew he'd have something planned for them when they reconvened Saturday morning.
"They know I'm watching video until two, three in the morning," Hopkins said. "We're going to have an accountability session tomorrow morning. But overall, I thought we competed well and stayed positive. Anything we did wrong was not for lack of effort, just execution."
The Bobcats will host Turner (2-2) at 7 p.m. Friday. Watch a live broadcast of the game on basehorinfo.com.