Bonner Springs volleyball finishes eighth at Tonganoxie Invitational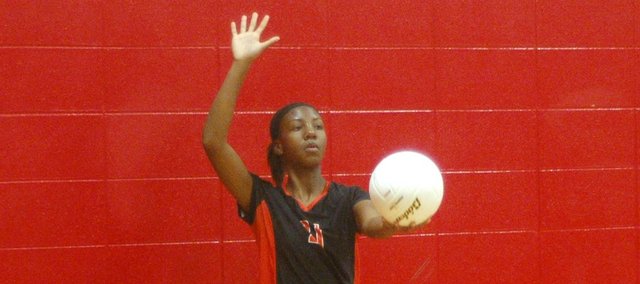 Tonganoxie — The Bonner Springs volleyball team finished eighth out of 10 teams with a 1-4 record Saturday at the Tonganoxie Invitational.
The Braves took on tournament host Tonganoxie in the seventh-place match after going 1-3 and finishing fourth in their pool. The Chieftains had an identical pool record and also finished fourth in pool play.
After falling behind in the first set, BSHS used a 5-0 run to take a 16-18 lead. Tonganoxie battled back but the Braves closed out the set with seven straight points to win the set. The Chieftains had an answer, though, as they reeled off 25-14 and 25-15 wins in the second and third set to clinch the match.
Bonner Springs opened pool play with straight-set losses against Ottawa (25-19, 25-20), Gardner-Edgerton (25-11, 25-12) and Bishop Ward (25-20, 25-13), but avoided an 0-4 showing when it swept Great Bend in the final match of pool play, 25-17, 25-17.
Following the conclusion of the tournament, freshman Alazia Stanley was named to the All-Tournament Team.
Gardner-Edgerton, the winner of Pool B, defeated Pool A winner Olathe East in the championship match, 25-21, 12-25, 25-12. Eudora swept Ottawa in the consolation match, 25-17, 25-19. Final standings can be found below.
Final team standings
Gardner-Edgerton (6-0), 2. Olathe East (5-1), 3. Eudora (4-2), 4. Ottawa (3-3), 5. Shawnee Mission Northwest (3-2), 6. Bishop Ward (1-4), 7. Tonganoxie (2-3), 8. Bonner Springs (1-4), 9. Great Bend (2-3), 10. Piper (0-5).
All-Tournament Team
Madison Maring (EUD), Courtney Will (OLA), Hannah Bettge (G-E), Lindsey Benson (OLA), Alazia Stanley (BON), Jenny Whitledge (TON), Jill Starling (G-E), Paige Weidner (OTT), Alexis Roecker (OTT), Marissa Round (OLA).
Best Defensive Player — Annie Beck, Eudora
Most Valuable Player — Cassie Wait, Gardner-Edgerton