Piper edges Bonner Springs in
O.T.

thriller, 29-23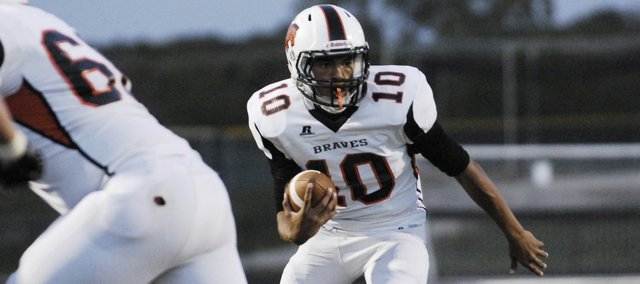 Photo Gallery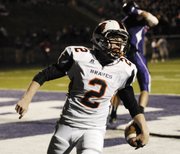 Sept. 21: Piper 29, Bonner Springs 23 O.T.
Four quarters couldn't tell the story of Bonner Springs and Piper's football game on Friday, Sept. 21. The Braves and Pirates each traded momentum swings, with the outcome hinging on the final seconds ... and inches.
Kansas City, Kan. — On the last of many hits Jordan Jackson took for Bonner Springs Friday at Piper, a red glove covered a gash on his right hand. Twice stuffed at the goal line, Jackson leapt forward once more before two Pirates grabbed him and the Braves' wall fell backward.
Inches from a chance to win in overtime, Bonner Springs fell, 29-23, in its first loss of the season.
Still wearing his helmet, Jackson left the post-game huddle filled with whatever emotion wasn't already pouring out of him. Coach Lucas Aslin grabbed Jackson in an embrace as he tried to bring him back down to earth.
"He was the reason we were in the football game," Aslin said after Jackson turned and walked toward his parents, waiting for him past the end zone.
Jackson rushed for more than 100 yards — carrying 30 times for 128 yards — for the second time this year, and added three total touchdowns (two rushing, one passing). The Braves (3-1) scored 20 unanswered points after Piper's Paul Jones took the opening kickoff 88 yards for a score, but the Pirates (3-1) rallied to open the fourth quarter ahead 21-20. Kicker Jason Van Maren, a soccer player who joined the team before the season, drilled a 36-yard field goal to put the Braves up, 23-21, and to give Aslin something he hadn't had all last season.
"Man that's nice," Aslin said. "That's something that if you don't have, you end up rolling too many dice."
Not that Aslin isn't a risk taker. Twice on fourth down, Aslin brought Kyle Dumler out to punt, only to have the 280-pound lineman/linebacker keep and barrel forward on a fake.
The first attempt would've picked up a first down were it not for a penalty. The second was just short, giving Piper the ball on Bonner Springs' own 28-yard line with 7:11 left in the game.
"We're going to roll the dice with Dumler," Aslin said. "He's 280, he's a big kid and he's a really smart kid."
Of course, having seen what Dumler and Co. did all night likely factored into Aslin taking the occasional gamble.
Dumler, Tyler Howell, Shawn Bryant, Darian Neal and Aaron Puckett made life difficult for Piper quarterback Tanner Eikenbary all night as the Braves defense did all it could to remove Eikenbary from any comfort zone he had on his home turf.
Meanwhile, Anthony Kubas picked off Eikenbary twice in the first half. In the third quarter, a third interception sailed through Kubas' hands and into Maverick Dearinger's to give Piper its late lead.
After Bonner Springs forced a turnover on downs at the end of a long Piper fourth-quarter drive, the Braves sought to pad their 23-21 lead — or at least burn some clock with a little more than 6 minutes left. But a false start backed Bonner Springs up on its own 2-yard-line, and a high snap led to Jackson being brought down for a game-tying safety.
"I don't care what anybody says, we beat them every single way except the scoreboard," Aslin said. "We beat them every single way. Sometimes it doesn't show up. Sometimes you don't make a few plays on special teams."
When the margin is razor thin, it can be easy — certainly painful — to try and figure out where points were left off the board. A failed PAT attempt here, a two-point conversion gliding off a receiver's fingertips there.
Drops plagued Bonner Springs' passing attack on Friday, none more than a pair of misfires late in the first half with a chance to reclaim a two-score lead.
Facing third-and-10, Jackson dropped back and fired a high, tight pass down the right sideline matched in quality by the reception pulled down by Jonathan Blackwell in double coverage — only Blackwell was ruled out of bounds.
Earlier, a Dumler recovery of an Eikenbary fumble in the second quarter set up an 18-yard touchdown pass from Jackson to Thaddeus Glenn for the Braves' third score of the night with 5:46 left in the second half.
When it had ended, Aslin had to dig back eight years to when he coached at Derby to try and find a game comparable to the one on whose sidelines he danced Friday.
This one was a loss, and Mill Valley (3-1) and Basehor-Linwood (2-2) loom the next two weeks.
But it will still be the epic Aslin points to the next time some slack-jawed observer asks when was the last time he saw anything like what happened that night.
And if Jackson, carrying a team's weight, has the ball in his hands needing to score in the final moments again, that question may not be too far off.
"I cannot say more about the kid playing hard and making plays," Aslin said, shaking his head. "I know he's really disappointed that he didn't get that one in — and it was close. It was close."