Basehor welcomes foreign exchange students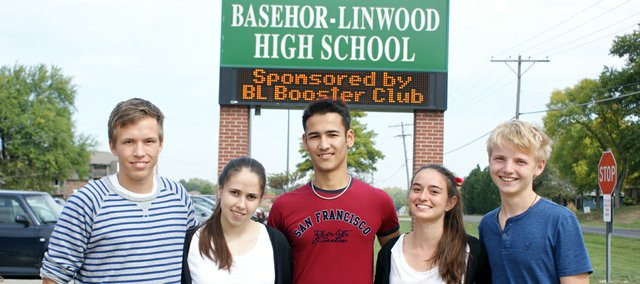 Yasmine Bale misses traditional Italian pasta; Vicky Borgnino misses the slow-cooked meat for which Argentina is famous; and Jannik Straube misses great German bread.
If you ask any of the five exchange students at Basehor-Linwood High School, it's food from back home that they yearn for while abroad. Of course they miss their parents, too.
Staying with local host families and studying at BLHS are Borgnino of Argentina, Bale of Italy, Juho Luomajoki of Finland, Mergen Meredov of Turkmenistan and Straube of Germany.
Although a couple of the students had visited the United States before, attending school here is a big change from back home.
Straube said he wasn't sure what to expect of high school in America, but he was pleased to find the schools were smaller than he expected.
"I thought the school would be 3,000 students," he said.
With about 2,000 students in the entire Basehor-Linwood School District, the exchange students enjoy a more close-knit school community. The positive experience previous exchange students had in the area is one reason the district may have received more students than the usual two or three, guidance counselor Nancy Silverforb said.
"It does reflect on the reputation of the school district and community," she said.
Attending a smaller school in a smaller community makes it easier for students to get involved with school activities and make friends, she said. All five exchange students already have joined athletic teams. Borgnino, Bale and Straube are running cross country, while Meredov and Luomajoki are playing soccer.
All five students speak English well, but starting classes taught entirely in English was a source of anxiety. Straube said he had to use a dictionary for uncommon terms in math class, but all five said they were pleased and a little surprised with how well they've comprehended their course material.
The school day itself also was an adjustment, several students said. In Italy and Argentina, for example, students stay in the same classroom all day, and teachers move from room to room. The prevalence of technology was also a surprise to the exchange students. While they have computer labs and projectors at their home schools, they are not offered in every classroom.
Meredov said he was surprised by students' cell phone use while at school. At home, he said, if he were caught using his phone in class, it would be confiscated for the remainder of the year.
Some of the students are only staying until the end of the semester, but a couple will be here for the entire school year, Silverforb said. While the students are here, some have plans to visit other areas of the country, but mostly they're excited to get a taste life in America.
Luomajoki said his goal is to improve his English skills, but more simply, "Live an American life."