Bobcats volleyball handed first league loss at Mill Valley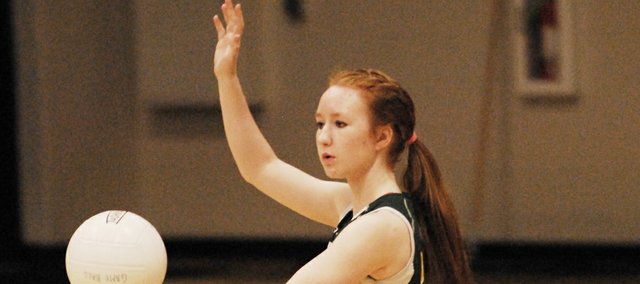 SHAWNEE — It can still be done. The Basehor-Linwood volleyball team can still win at least a share of the Kaw Valley League title it set its sights on this season.
But after Tuesday's loss in straight sets at Mill Valley — their first league loss of the season — the Bobcats (9-15, 3-1 in the KVL) will need a little help.
"It's definitely not impossible," Bobcats coach Amy Irvin said. "But it's not the predicament that we wanted to be in."
Entering Tuesday's match, Irvin knew Mill Valley was on the short list of league powers, right next to Lansing, both of which are still atop the league standings. For the Bobcats to leapfrog Mill Valley on Tuesday, Irvin said they'd have to come out aggressive. That they didn't, on the road against a team now 12-3 on the season, helped tell part of the story.
"I told them that it was going to be a tough game from the start," Irvin said. "They knew it wasn't going to be easy. I said we had to have less of the little mental breakdowns than we normally have. We had to be aggressive and not tip it. And then we went out and tipped it as much as we hit it."
The Bobcats fell behind early, eventually trailing 22-13 in the first set before going on a 7-2 run. But a spike by Mill Valley junior Molly Oshinski put the frame away.
The second set saw more of the same early on as Basehor-Linwood trailed again soon, but went on a six-point run led by junior Allison Heinen, who briefly stole momentum with a crushing spike. The advantage soon returned to the hosts' favor, however, and the Jaguars used an ace serve to close the second set.
Down 0-2 and facing defeat, Basehor-Linwood hung tough early in the third set, forcing prolonged back and forth exchanges and keeping it close at 16-19. But another run by the Jaguars proved too much to overcome.
As Irvin addressed the Bobcats in the postgame huddle, it took her little time to bring up her team's letting the 16-19 set get away from it.
"They would just push and push and push and we didn't push back," Irvin said of the Jaguars. "I told them the day they believe in each other as much as I believe in them, we won't lose."
It's not as if those days are far removed. At the Louisburg on Saturday, at which the Bobcats placed fourth out of eight teams, Basehor-Linwood rallied back from down 14-20 to take a set against Santa Fe Trail.
The Bobcats went 2-3 at the tournament with victories against Leavenworth and Fort Scott and losses to Blue Valley North, Louisburg and Santa Fe Trail.
But on Tuesday, Irvin saw a team still needing to learn how to pull itself out of large deficits more consistently.
"We just get into those ruts where the other team scores consecutive points and it's so hard for us to mentally believe that it can happen," she said.
If the Bobcats are to improve, Irvin said, it will be behind the leadership of seniors Brandi Stahl, Jamie Johnson, Haley Waters and Samantha Rutherford.
"I rely a lot on my seniors, so when my seniors are not vocal and positive leaders that definitely hurts us," Irvin said.
Sophomore Abbey Mellies has also emerged as a valuable asset coming off the bench, Irvin said. Mellies led the Bobcats with five kills on Tuesday, followed closely by Johnson and Rutherford with four kills each and Stahl with three.
But against what Irvin called the Bobcats' toughest league opponent, Basehor-Linwood's 22 errors and six dropped balls were statistics as telling as the final score.
"Mill Valley is beatable but you have to let them make mistakes," Irvin said. "You can't make consecutive errors and that we did."
The Bobcats return to play at Turner at 6 p.m. on Oct. 2.