Braves' Stanley named to All-Tournament Team;
BSHS

gets league victory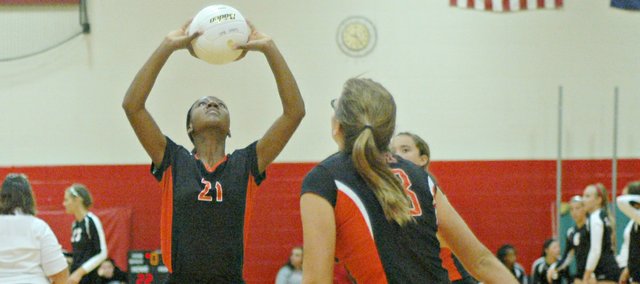 Julianne Jackson, Mikaela Bennett and Cassady Holloway helped lead the Bonner Springs volleyball team to a league victory against Turner on Tuesday.
The Braves (9-24) downed the Golden Bears in straight sets (25-23, 25-18, 25-19).
The league match followed an appearance at the Tonganoxie Invitational on Saturday, where the Braves placed eighth out of 10 teams.
Bonner Springs opened pool play with straight-set losses against Ottawa (25-19, 25-20), Gardner-Edgerton (25-11, 25-12) and Bishop Ward (25-20, 25-13), but avoided an 0-4 showing when it swept Great Bend in the final match of pool play, 25-17, 25-17. The Braves met tournament hosts Tonganoxie in the seventh-place match, where Tonganoxie earned a three-set victory.
Following the conclusion of the tournament, freshman Alazia Stanley was named to the All-Tournament Team.
Bonner Springs returns to play when it hosts a triangular meet against Atchison and Schlagle at 5 p.m. on Thursday.