Firefighters commemorate 9-11 with stair climb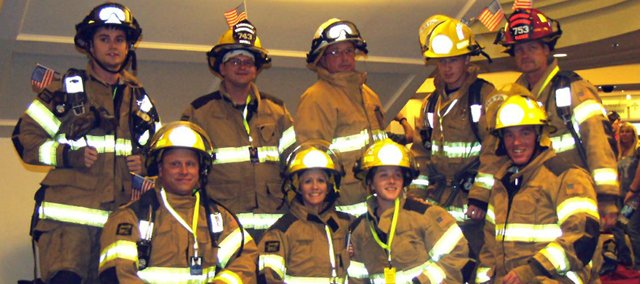 This year, Fairmount Township firefighters commemorated the anniversary of September 11 by honoring the bravery and determination of the 343 firefighters who lost their lives at the World Trade Center.
In full gear, nine township firefighters joined 334 other area firefighters in Kansas City, Mo., to climb 110 flights of stairs, just as their fallen comrades did while rescuing people from the Twin Towers.
"For the first seven flights you don't know if you're going to make it," Fairmount firefighter Josh Stillian said.
With 80 pounds of gear, climbing the stairs was grueling, but the firefighters at the World Trade Center also were using air tanks and hauling tools, and the building was on fire, said Lieutenant Olie Olesen.
The 9-11 Stair Climb is a national event held in many cities across the country. In Kansas City, Mo., the climb is held at Town Pavilion. Because there are only 34 flights of stairs, firefighters take the elevator once they reach the top to repeat the climb until they finish the full 110 flights.
Completing the climb from Fairmount were Steve Marquardt, Ricky Bevell, Tony Turner, Josh Stillian, Olie Olesen, Jarrod Basgall, Stephanie Leonard, Haley Hanna and Brandon Roberts. Jim Dickey and Sheryl Turner didn't climb, but they volunteered, handing out water along the stairs.
Stillian said he underestimated how hard it would be, but the fellow climbers encouraged each other along the way.
"It's a brotherhood," he said.
Each climber is assigned a firefighter to honor during the climb, which makes the event particularly meaningful for the few registered to participate, Assistant Chief Tony Turner said. The firefighters then attach a photo of the honoree to their air tanks for the event.
"I was just proud to do it," Olesen said.