Basehor-Linwood can't match Turner's fourth-down prowess in 28-22 loss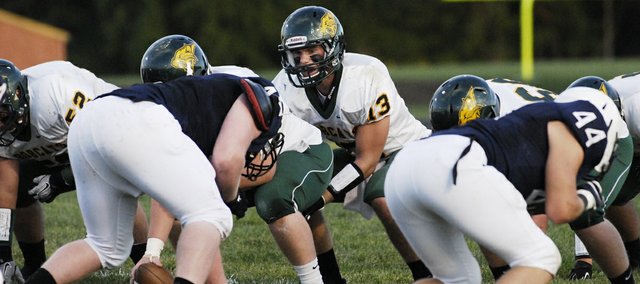 Before Basehor-Linwood coach Steve Hopkins could huddle the team after its 28-22 loss to Turner, the players let him know that they understood what happened out there. More importantly, they said it wouldn't happen again.
"This will make us better, coach," some players told him. "We'll get better. We've got to learn from this."
This game cannot be summarized by one play or a sudden shift of momentum. Turner came to Basehor-Linwood's Homecoming and executed on the plays it needed most and the Bobcats, for whatever reason, could not.
"We're right there, we just can't finish," senior quarterback Tanner Garver said. "I don't know what it is, we just can't finish right now."
Garver and Hopkins each listed a handful of plays that were as educational as they were frustrating. The Bobcats (2-3) started the game with a three-and-out and allowed a punt return to the one-yard line, which took Turner one play to score. It was an uphill battle from there.
Basehor-Linwood then drove down the field, had first-and-goal on the 8-yard-line, but a gimmick play to Drew Potter went for minus-five yards. On fourth-and-10, the Bobcats went for it and Garver threw an interception.
The next drive ended on downs while trying to convert a first-and-25. And the Bobcats' drive after that one ended inches before the first down on fourth-and-eight.
"By the third time we didn't get it in," Hopkins said, "I knew it might not be our night."
The gut-wrenching stat of the night came from the Bears (3-2), and much to their credit. Three of their four touchdowns occurred on fourth down: a 26-yard quarterback scramble, a 20-yard pass and, for the big finish, a 21-yard halfback pass to the quarterback. Turner had done everything else it wanted to, so why not?
"That's an unusual play that our kids have never seen on video," Hopkins said. "There's no reason to know that's coming. That was just a great call by them."
Turner quarterback Paul Berry ran for 192 yards and two scores while Potter ran for 120 yards and two scores on the Basehor-Linwood side. Even considering the night the Bobcats had, Ben Johnson had perhaps one of the best plays of the game, snagging a fourth-and-18 pass in double coverage for a 28-yard touchdown. The positives were hard to appreciate, even for the homecoming king.
Garver won the crown that night, but had other thoughts on his mind, like how to get past this loss and figure out how to finish drives on offense and defense. There will be no butting heads, there will be no sloppy plays during the week. The conviction in Garver's voice was enough to suggest that this Bobcat team will be completely different next week.
"We're going to practice harder. We are. It's all the way from freshmen to seniors," he said.
Next Friday will be the prime week to rebound because it will be against rival Bonner Springs, who is enjoying a successful season with plenty of talent. Hopkins sees this as the best-case scenario for his team coming off a loss because they will be amped to play all week. As if this team needed any more motivation.
"It'd be harder if were actually playing someone we didn't care about," Hopkins said. "In that regard, it will be better for our kids because they will be excited about playing better."