After rout by Mill Valley, Braves turn sights on Bobcats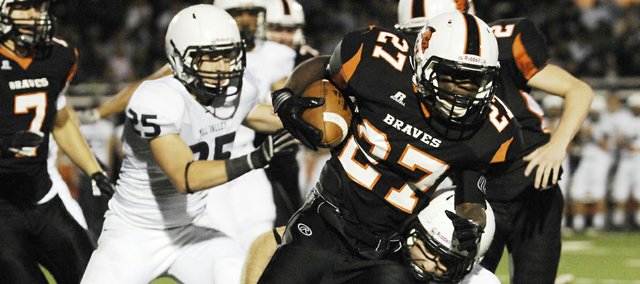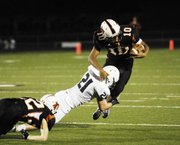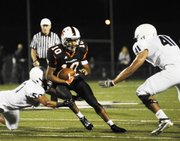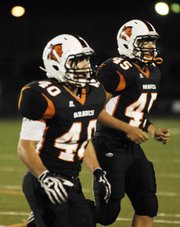 There wasn't much Bonner Springs football coach Lucas Aslin could say after the Braves' 49-12 loss at home against Mill Valley that the scoreboard didn't already proffer.
"We didn't have an answer for what they did," Aslin said.
Mill Valley quarterback Skyler Windmiller threw four of his six touchdown passes in the first quarter as the Jaguars coasted to a victory that was rarely, if ever, in doubt.
Windmiller completed 17-of-25 passes for 271 yards and six scores to help give Mill Valley (4-1) its fourth-straight victory and fourth Kaw Valley League blowout in as many games.
"We knew all week what was going to be open and where I was going to be throwing it," Windmiller said.
Staton Rebeck and L.J. Hatch each caught three of Windmiller's six touchdown passes, and Rebeck added a 12-yard touchdown pass of his own on a fake field goal attempt late in the first half.
It took the Jaguars barely more than a minute to go up 14-0 in the first quarter. Hatch, who finished with three receptions for 132 yards, took the opening kickoff down to Bonner Springs' 43-yard line to set up the first scoring drive. Windmiller then completed four-consecutive passes, the last of which to Rebeck for a 9-yard score.
On Bonner Springs' first play from scrimmage, Hatch recovered a fumble by Jonathan Blackwell to set Mill Valley up on its opponents' 27-yard line, from which Windmiller needed just one play to find Rebeck for another touchdown.
Bonner Springs junior quarterback Jordan Jackson again put the offense on his shoulders throughout the game, pulling within 14-6 on its second possession. Jackson, who led the Braves with 147 rushing yards on 19 carries, ran in a six-yard touchdown to pull within one possession with 10:08 left in the opening quarter. Jason Van Maren's extra point attempt, however, was blocked.
Bonner Springs' only other score came on a 7-yard pass from Jackson to Mason Roberts with 3:22 left in the second quarter. It was on Mill Valley's next drive that Rebeck tossed his trick-play touchdown to a diving Tyler Garrison to carry a 35-12 lead into halftime.
Jackson finished the game with 88 passing yards on 11-of-24 completions and an interception by Ryan Bath.
Mill Valley was also able to get to Jackson for three sacks, doing its best to stifle the dual-threat passer.
"I think defensively we played very physically tonight," Mill Valley coach Joel Applebee said. "That's something we really pushed the last couple weeks."
Meanwhile, the Jaguars — who've outscored KVL opponents 211-25 this season — were able to keep Bonner Springs' large defensive front away from Windmiller for much of the game, buying the quarterback plenty of time on each throw to find the open man he knew he could count on seeing.
With junior running back Jared Knershield out, much of the onus fell on Jackson to pick up the slack in the running game. No other Brave carried the ball more than six times — that player being freshman Marcell Holmes, who was given a look on Friday — nor did any other player rush for more than six yards. Bonner Springs (3-2) will host Basehor-Linwood (2-3) in a rivalry game pitting two teams eager to end recent slumps.
"We match up a lot better than we did against these guys," Aslin said. "Basehor's more of a run team and we defend the run OK. They're struggling a bit right now just like we've been struggling the last two games. It's just whoever can turn it around the quickest."