BLHS

softball opens season with split against Mill Valley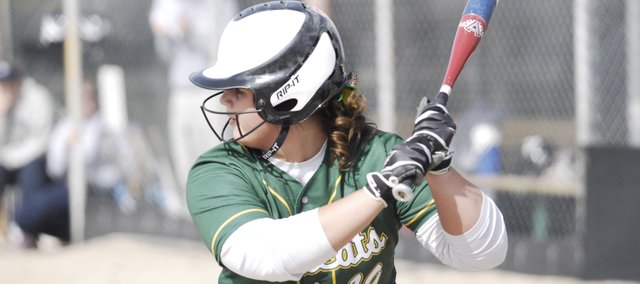 After being dealt a 6-1 opening loss by Mill Valley, the Basehor-Linwood softball team managed a split of Tuesday's season-opening doubleheader behind a three-hit complete-game performance by sophomore pitcher Asia Larsen.
Larsen allowed just one run and gave up just one extra-base hit in a 5-1 victory that gave the Bobcats a 1-1 start to the season.
"She was hitting her locations," BLHS coach Susan Mayberry said. "We also didn't give up as many walks as the first game. That certainly helps."
Sophomore Allison Kasick and freshman Jenna Donnelly each went 3-for-4 in the nightcap victory. Kasick had a double in the sixth and Donnelly added to the Bobcats' lead with a run scored in the fourth and also had an RBI.
"When you put the ball in play," Mayberry said, "it gives us a chance. And that's what we did."
The win followed a commanding performance by Mill Valley pitcher Lexie Myers, who set the tone in striking out two and allowing just one run off five hits in the opener. In the opener, the Bobcats' leadoff hitter, junior Kayleigh Schoenfelder, finished 2-for-3 with a double to lead the BLHS offense. The Bobcats were kept off the board until the bottom of the sixth, when freshman Jenna Donnelly knocked in an RBI single, scoring McDowell, who had just reached on a double.
But at least early on Tuesday, it was tough for BLHS to get much of anything going against Myers, who retired Bobcat batters in order in four of her seven innings pitched.
"I was very happy with Lexie," Mill Valley coach Sarah Haub said. "She pitched a complete game and it was a really solid pitching effort and catching effort."
Behind the plate to receive Myers' pitchers was her twin sister, Lacie Myers. Lexie Myers pitched five straight scoreless innings before the Bobcats got on the board in the bottom of the sixth. By that point, Mill Valley already enjoyed a 6-0 cushion.
Meanwhile, in her BLHS starting pitching debut, Madison McDowell walked five and allowed six runs off 14 hits.
With such a limited amount of outdoor practice in the weeks leading up to the season, Tuesday was especially important for Mayberry to gauge one of her younger teams in recent seasons.
"At this point we didn't have any cut and dried positions other than our infield is pretty set," Mayberry said. "We have a lot of outfield work to do and a lot of experience to gain in a short amount of time."
The Bobcats return to Field of Dreams to host a doubleheader against Silver Lake at 4 p.m. on Friday.