BSHS

girls soccer opens season with 3-0 loss to Shawnee Heights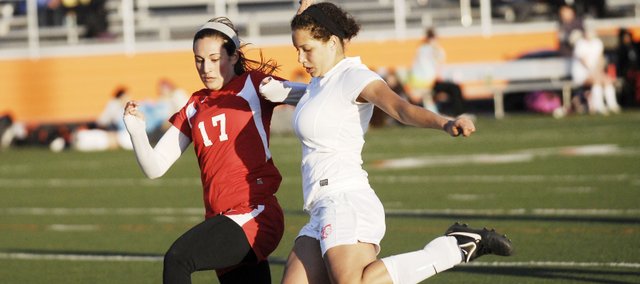 Once the Bonner Springs girls soccer team finally played an oft-delayed season start on Monday, attention turned to the task of finishing.
Against a team that shelled them 7-0 in 2012, the Braves dropped a 3-0 home-opener to Shawnee Heights that will be recalled by BSHS as much for its revelatory nature as for its frigid game-time temperatures.
"It was probably a 50-50 match possession-wise," BSHS coach Mike Moulin said. "I thought we had some looks at times that we should've finished."
The Braves started four underclassmen Monday and had to reshuffle their defense in the absence of senior Anna Deegan, who was expected to return later this week after resting a sore knee. Monday also marked junior Kennedy Bizzell's varsity debut in goal. Bizzell was one of many stricken with injury during the Braves' ill-fated 2012, and made several strong stops in her first appearance minding the net.
The Thunderbirds, however, used a pair of coincidentally timed set pieces to create a 2-0 cushion entering the game's final half hour. Shawnee Heights junior Bailey Wells bent two free kicks, each a little less than eight minutes into both halves, past a BSHS wall and beyond Bizzell's reach.
But after each score, the Braves responded with a torrent of chances.
"These girls, I thought, come out and put it to them awhile," Moulin said. "We had our ups and downs. In the end I'd like to see one or two get on there. I thought we deserved it."
Freshmen Julianne Jackson and Miyah Hightower made their first appearances as forwards and each nearly put the Braves on the board on separate occasions.
"Everything just looked positive from here," senior Haley Hoffine said. "We're really young so that shows a lot, too."
Hoffine and sophomore Allie Ledbetter each played out of position on defense to account for Deegan's absence, and on multiple occasions came up with a key clearance.
The Thunderbirds sealed the game with a third goal with 2:15 left, but the Braves were finally able to orchestrate a chance that initially appeared to conclude with a score. Jackson found senior Jessica Moulin for a strike with 36 seconds left that even convinced the P.A. announcer. But moments later, Jessica Moulin was deemed offsides.
"That's still debatable, and it should've been counted," Mike Moulin said. "Jessica was behind the ball until it was released."
Junior Bailey Hightower said the Braves opened the game with a few extra jitters. Between the team's youth and a rare occasion in which most of the roster was at full health, multiple unknowns existed. But upon the final whistle, a long face couldn't be found in the post-game huddle.
"If we can get healthy," Hightower said, "I think there's a lot that we can do. We got beat by this team 7-0 last year — I'll take this over 7-0 any day. I think we've come a long way."
Added Hoffine: "Once we really got in the flow of things, you could tell how patient we were."
The Braves return to play on Wednesday against Kansas City Christian and will travel to Topeka Seaman on Thursday in continuation of a tough opening slate that Moulin eyes as preparation for bigger plans.
"I see this team making a run toward just being successful at the end," Moulin said. "To me, these are practice games for the main show. And none of the girls were down; they were all proud of themselves. They know."