Basehor, Bonner Springs wrestlers star in state youth tournament Saturday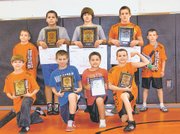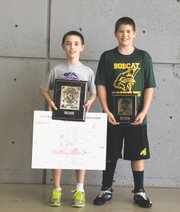 Seven Bonner Springs wrestlers placed at the Kansas State Wrestling Folkstyle Tournament Saturday in Topeka, led by D.J. Ballard's state championship in the 113-pound high school bracket.
The Bonner Springs Wrestling Club finished 22nd out of 164 teams at the tournament. Competing in the 12-and-under bracket, T.J. Williams placed second at 140 pounds and Trai Warburton was also a runner-up at 165 points. Ethan Witzke placed third in the 8-and-under 73-pound bracket, and Cruz Lara (10-and under, 61 pounds) and Jackson McArther (10-and-under, 73 pounds) each placed fourth. Derek Duffett rounded out the club's showing with a sixth-place finish in the 10-and-under 58-pound bracket.

Basehor's Cunning undefeated
Ethan Cunning capped a perfect 42-0 season for the Bobcat Wrestling Club on Saturday, winning a state championship in his 8-and-under 76-pound bracket. Cunning defeated Zach Morford of the Wichita Blue Knights by a 9-6 decision.
Also on Saturday, Peyton Reeves (34-10) won the third-place match in the 10-and under 130-pound bracket, pinning Norton Wrestling Club's Judson Wiltfong in 48 seconds to avenge a first-round loss in the third-place rematch.