BSHS

boys tennis in search of consistency at season's early stages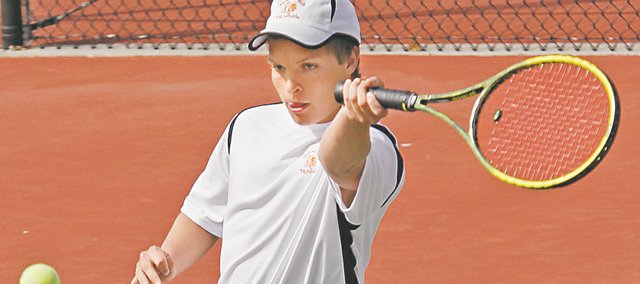 The Bonner Springs boys tennis team is off to a slow start as it tries to find the right mix of doubles teams with the season underway.
"We are just not being consistent and that is the key to high school success," BSHS coach Bill Scott said.
Peter Jenkins (No. 2 singles), Quinton Schneck and Aaron Lewis (No. 1 doubles) and Jack Klingele and Tyler Jenkins (No. 2 doubles) won just one game apiece in the Mill Valley Invitational on Friday, at which the Braves placed sixth.
On Monday, the Braves went 2-7 in a duel against Maranatha Christian Academy on Monday. Peter Jenkins earned an 8-5 win in singles play and the doubles team of Klingele and Tyler Jenkins earned an 8-4 win.
BSHS also went 2-7 in a duel at Lawrence High on Tuesday. The Lions swept the Braves in singles play before Arnett and Lewis earned an 8-6 doubles win and Tyler Jenkins and Klingele closed the day with an 8-2 doubles win.