Council reviews fee schedule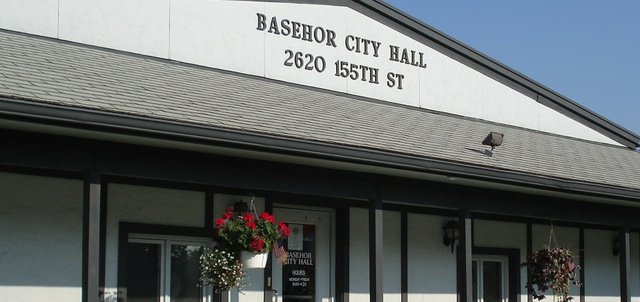 At their meeting Monday night, Basehor City Council members decided to review commercial permit fees before updating the city's complete fee schedule at their next regular meeting.
Commercial permit fees currently consist of a base fee based on the value of construction, and additional fees are added from a long itemized list of fixtures. Mayor David Breuer said he'd like to make that fee equation simpler, because, as it stands, the city needs several days to figure the fees before notifying the builder.
"It seems like we're taking a lot of time that we shouldn't be," he said.
The city is updating its master fee schedule, although the newly listed fees were already in use. Updates include the $1.50 convenience fee for credit/debit cards, the new commercial sewer connection fee, a no-cash payment policy and open records request fees of $15 an hour for staff time with a minimum of $5 and a copy fee of 50 cents.
Council members plan to further discuss the commercial permit fees at a retreat from 9 a.m. to 2 p.m. Friday, April 12, at 24/40 Roadside Café.
Also at the work session:
• The council discussed how to proceed with documentation for tax write-offs for landowners who donated property for the Wolf Creek Parkway project. The discussion is whether it would be easier to have the city appraise the donated property or have the landowners have it appraised independently.
• The council discussed several issues involving Field of Dreams, including whether teams will be allowed to practice on the fields, which is not included in the city's contract with operator Troy Wiseman. The increased wear and tear makes upkeep more expensive, but the unattended siblings of players have vandalized property in the past, too, Martley said. The council wants to further discuss the issues with Wiseman.
The council also discussed Westar Energy's proposal to move an electrical pole that is currently near Field 1, which would require construction and a new portion of fencing. Westar would pay for all construction costs.
• The council met in executive session to discuss personnel matters.