Student combines bowling, science for winning project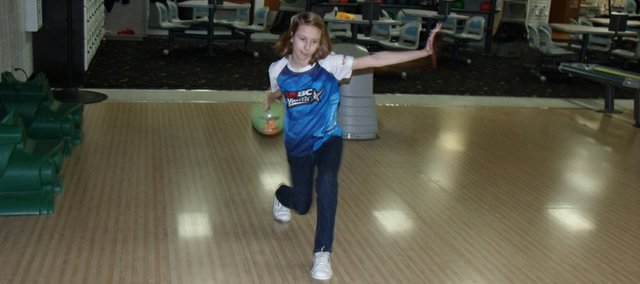 To say bowling is a big part of Kyah Surritte's life is an understatement — the Bonner Springs Elementary School fifth grader lives, eats and breathes the sport.
"I like the concept of having fun in bowling and trying to meet new people," she says. "I like to bowling with sisters and try to teach them how I bowl, but I know they have their way of bowling. Ever since my dad took me to bowling, I've just loved it from that day on."
Kyah has earned awards and scholarships for her bowling, so it's no surprise that when she combined her favorite sports with one of her favorite subjects in school, science, she also got a big award.
At last month's Greater Kansas City Science Fair at Union Station, her science project, "Bowling with an attitude," was earned Gold Achievement and Special awards and was one of just a handful selected for the 2013 Science Fair Project Display at the Linda Hall Library at the University of Missouri – Kansas City.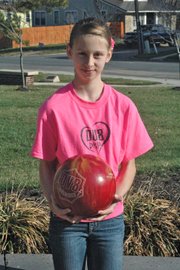 Getting the ball rolling
Kyah created the project voluntarily as part of the school's science club. As the club started discussing the projects in October, Kyah's father encouraged her to do something a little out of the ordinary.
"She's very passionate about bowling, so we came up with the idea (to see) if there was some way she could incorporate the bowling with it," her father, Glenn Surritte, said. "She came up with the idea of how she went about it, and we just followed her the rest of the way."
When Kyah bowls in the Heart of America Junior Classic on the third weekend of each month, they bowl with different oil patterns — different amounts of oil conditioner applied to the first 35 to 47 feet of a bowling lane that can affect the trajectory of the ball as it rolls down the lane.
"I was kind of thinking one day and I decided to choose three different kinds of oil patterns, and see what one could help me the best with bowling; what would I do better on," Kyah said.
When Kyah bowls, she typically throws the ball with a certain hook, so she decided to see if the Scorpion, Shark or Cheetah oil pattern helped her score the highest with her style of bowling and her most "aggressive" bowling ball.
Ft. Leavenworth Bowling Center is one of the few area bowling alleys with equipment for laying down oil patterns and allowed Kyah to lay down the different patterns for her experiment. She hypothesized that she would get the best results with the Scorpion pattern; her experiment showed she got the best results with a Cheetah pattern.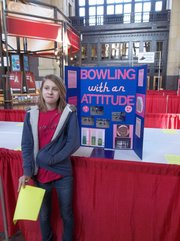 A bowler since birth
Bowling has been a part of Kyah's life almost since day one.
"The day she came out of the hospital when she was born, we left the hospital and went straight to a bowling alley, because I had to bowl that night," Glenn Surritte said.
Kyah began bowling at age 4, and by age 5, she no longer needed the bumpers. She has always pushed herself to learn more, her mother, Leslie Surritte said, working to improve by watching USBC videos and checking out books on styles of bowling.
"I never did pressure her, we kind of bowled on the fun perspective of it to start, and she took off full speed ahead," Glenn Surritte said.
In her age and division, Kyah is a two-time Kansas State Pepsi Champion and the 2012 state champion in singles, and she has bowled in the national competitions last year in Indianapolis and plans to take part again this year in Detroit.
Her average score is a 150; her high game score is 235, and high series is a 588, putting her in the Kansas top 10 for her age division for last four years.
Two weeks ago, she threw seven strikes in a row in one game, and her first throw in the next game was a strike, giving her a new high of eight strikes in a row.
"We need to put 12 together in one game – shoot that 300 game. If she was to do it in the next couple of years, she'd be the youngest female to ever do it."
In other words, she's good.
In addition to bowling with the junior classic once a month, she bowls with a league every Saturday morning and in the Kansas City Open youth tournament for scholarships on the first Sunday of each month.
Her parents think she will be able to pay her way through college with her sport — at age 11, she already has won about $3,000 in college scholarships.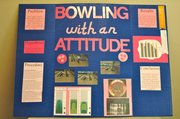 Out of the ordinary
The title of Kyah's science project, "Bowling with an attitude," was inspired by her drive in the sport.
"She has a real high, competitive nature — the girl hates to lose," Glenn Surritte said. " … She's real self-disciplined, and she gets mad at herself if it's not great or she doesn't think its up to her potential."
With her science project, the hardest part was explaining what the oil patterns were and how they affected the ball. Leslie Surritte said she warned Kyah that the judges might not understand because not a lot of people have an in-depth knowledge about bowling.
But it turns out, one of the judges noted that he worked at a bowling alley.
"I am a bowler also and have worked in a bowling center, so I am thrilled to see you take your passion and create an experiment," he wrote on the judging sheet.
Kyah's project was chosen for the UMKC exhibition based on the quality of its scientific content, project originality, and the presentation of results. It will be displayed in the main reading room of the Linda Hall Library from April 15 to May 7, and Kyah will attend a reception on the closing night along with the creators of the other project on display.
The Surritte's say Kyah's next step is to ask USD 204 to create a high school bowling team, because her only other option at this time is to play with Lansing High School.
"We like Bonner schools and all her friends are here," Glenn Surritte said. "So in the next few years, we would like to see if they would be willing to take it on, to bring a bowling team to Bonner to kind of broaden the spectrum a little bit."