BLHS

senior Jamie Johnson to play basketball at Cowley

CC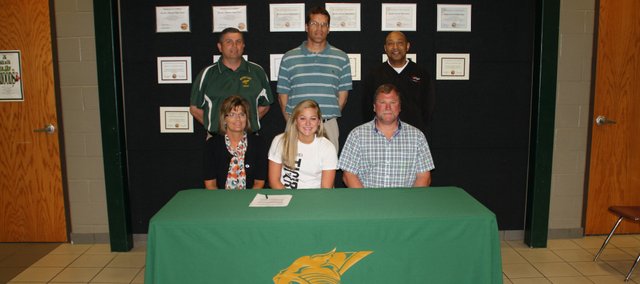 Basehor-Linwood senior Jamie Johnson signed a letter of intent this week to continue her basketball career at Cowley County Community College in Arkansas City.
"She's one of those players coaches want to coach," BLHS girls basketball coach Jason Tatkenhorst said. "It's good to see a player like her get rewarded."
Johnson said she didn't know much about Cowley until about a month ago when the school expressed interest in her joining its women's basketball program. Turns out, the two-year school was what Johnson had been seeking.
She said the next two years would allow her to decide whether she wants to continue playing basketball even longer. And she may not have to wait long to get started.
"It's looking good for me to play a lot," she said.
The path to this moment wasn't easy for Johnson, whose junior season was cut short after she broke her arm about halfway through the year.
"I really looked forward to finishing my junior year," she said. "I was hoping to break some school records."
Johnson did, however, have a chance to do so her senior season, eclipsing the Bobcats' three-point record. Johnson also had a new coach for her final season as Tatkenhorst took the reigns from Noah Simpson, who left to coach in Liberty after last season.
"It was definitely different not having someone I was comfortable with," Johnson said, "but I feel like he helped us become a lot better basketball players. I wish I could have spent more time around him."
Arkansas City is about two-and-a-half hours southwest of Basehor, but Cowley County competes against several teams in the area, including Kansas City Kansas Community College and Johnson County Community College.