BSHS

girls can't hold late lead at Tonganoxie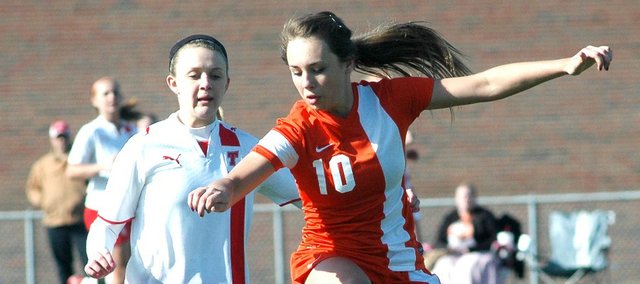 THS 4, BSHS 3 (OT)
First half scoring
Anna Deegan (BON), 16:35
Second half scoring
Julianne Jackson (BON), 22:19
Emily Soetaert (TON), 8:35
Emily Soetaert (TON), 7:25
Miyah Hightower (BON), 3:26
Madison Simmons (TON), 2:18
Overtime scoring
Emily Soetaert (TON), 6:20
Tonganoxie — Bonner Springs had a lead with less than three minutes left in regulation, but couldn't seal the deal in a 4-3 overtime loss Friday at Tonganoxie.
The Braves led by two goals late in the second half, but Tonganoxie's Emily Soetaert cut the deficit in half when she scored off an inbound throw with 8:35 remaining. She tied the game just more than a minute later on a penalty kick that bounced off the hands of Brave goalkeeper Kennedy Bizzell.
Bonner Springs regained the lead on a goal by Miyah Hightower with 3:26 remaining, but THS got a free kick opportunity with time running out. A shot attempt by Madison Simmons got past Bizzell and went into the top right corner of the net with 2:18 left.
Soetaert capped off the comeback with her third goal of the game with 6:20 left in sudden-death overtime.
"Overall, I thought we did an amazing job the whole game," coach Mike Moulin said. "It was just mental breakdowns. We didn't clear the ball and we over-committed on a couple."
Bonner Springs grabbed a 1-0 lead midway through the first half when Anna Deegan scored on a breakaway up the middle, and the Braves took the one-goal advantage into halftime. They doubled their lead on a goal by Julianne Jackson with 22:19 left in the second.
BSHS will continue Kaw Valley League play when it hosts Basehor-Linwood at 6 p.m. Tuesday.
"The girls just need to focus and play soccer like they're supposed to," Moulin said. "I think they're putting a little too much on their shoulders, so they need to just relax a little."