Mahjong madness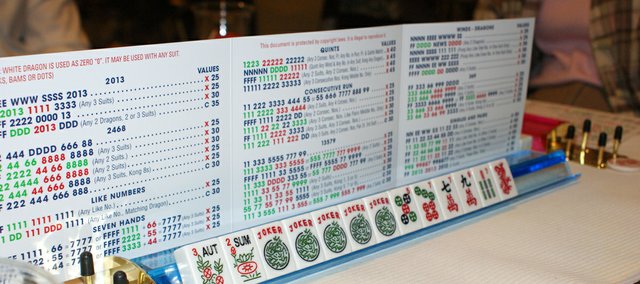 Mahjong is a lot like Rummy, but with 152 tiles and hundreds of patterns, it's a little more complicated.
"It's all about strategy," said Suzie Fehseke, who teaches a mahjong workshop at Basehor Community Library.
Fehseke has been playing mahjong for 12 years, but when she moved to Tonganoxie from Arizona, she couldn't find anyone who knew how to play. So last June, she started teaching workshops to anyone interested in learning to play the Chinese tile game.
Now, the Four Winds Mahjongg League has about a dozen regulars who play every Monday night at the library, almost all of whom learned the game within the last year.
The real mahjong isn't anything like the popular computer game by the same name, which is about matching tile pairs. The object of mahjong is to complete a pattern of different pairs and sets by drawing and passing tiles between players.
It's easy to play, Fehseke said, which drew some laughter from her newer players, but it can take about a year to really feel comfortable with all the rules.
And just when players think they have the patterns down, the game takes a twist. The National Mah Jongg League changes the patterns annually.
"You'd never get bored," league member Jane Brandenburg said.
It all may sound daunting, but once you get the hang of it, it's addictive, Fehseke said.
"I like games, and I like challenges," league member Betty Feyerabend said.
Crosswords and Cryptoquips are right up her alley, too, she said, and she enjoys the strategy involved in mahjong. It only takes about 15 or 20 minutes before a player completes a pattern and wins, Fehseke said.
"It's not a long game," she added. "It keeps things moving."
The Four Winds Mahjongg League includes players from across the county and Bonner Springs, Fehseke said, and more players are always welcome. New players are asked to attend one of her free workshops before they play Monday nights with everyone. Her next workshop will be 11 a.m. to 1 p.m. Monday, May 6, but extra dates are available if enough people are interested.
For more information about mahjong or the league, call Basehor Community Library at 913-724-2828.