BLHS

girls track team fourth, boys fifth at Tonganoxie Invitational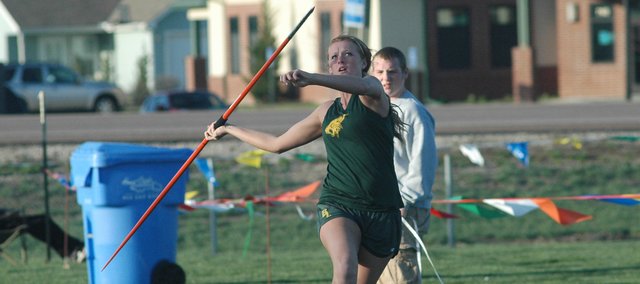 Related document
The Basehor-Linwood girls track and field team followed up its Bobcat Relays win with a fourth-place finish at Friday's Tonganoxie Invitational, finishing just two points out of third and three away from second-place.
Meanwhile, the BLHS boys team placed fifth with 78 points, behind St. James' 81.5 points.
Top-three finishes are below and complete results can be found in PDF form online.
• Marriah Clayton, second, girls 100-meter dash, 13.33 seconds
• Quinn Walcott, third, girls 3,200-meter run, 12:55.8
• BLHS girls 4-x-100-meter relay team, second, 53.31 seconds
• Allison Heinen, second, girls pole vault, 7-06
• Sierra Smith, third, girls triple jump, 31-09
• Katie Trower, second, girls discus throw, 98-04
• Victoria Smith, second, girls javelin throw, 93-00
• Lane Young, third, boys 100-meter dash, 11.75 seconds
• Matt Ogivlie, first, boys 110-meter hurdles, 16.30 seconds
• Matt Ogilvie, second, boys 300-meter hurdles, 43.78 seconds
• BLHS boys 4-x-100-meter relay team, second, 46.95 seconds
• BLHS boys 4-x-800-meter relay team, third, 9:02.40
• Ben Johnson, first, boys shot put, 49-07
• Ben Johnson, first, boys discus throw, 150-10
BLHS will next compete in Thursday's Bonner Springs Invitational. Stay tuned for the latest information regarding any potential weather-related changes.