BSHS

baseball wins first in split against Eudora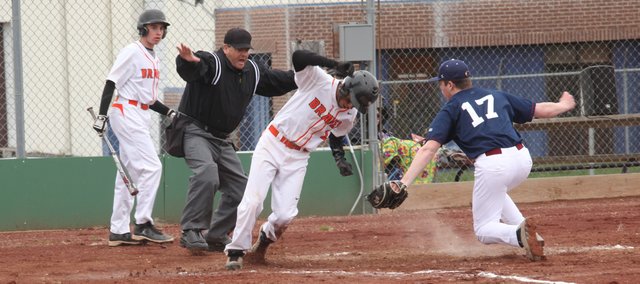 More from Monday
• The Bonner Springs softball team (0-6) will also host its long overdue home opener against Lansing on Tuesday. The Braves were swept by Piper (12-2 and 8-1) on Monday.
• Bonner Springs' girls soccer team will host league-rival Basehor-Linwood after picking up a 1-0 win at Gardner-Edgerton on Monday. The Braves allowed just three shots on goal in the win. On Tuesday, junior varsity will play two 20-minute halves, meaning varsity may start earlier than the 6 p.m. scheduled kickoff.
The first win of the season for the Bonner Springs baseball team wasn't met by overdue jubilation, nor did it look like anything other than a victory on a cold April afternoon.
"Act like you've been there before," was heard repeated in the Braves' postgame gathering that followed sophomore Roman Glenn's game-winning run in a 6-5 victory in eight innings against Eudora in the first game of a doubleheader the two teams split.
An error on Eudora's throw to first allowed BSHS sophomore Jeremy McDonnell to reach first and Glenn to safely cross home.
Monday's doubleheader — Eudora took the nightcap, 13-7 — also served as the Braves' much-delayed home opener. The original opener, scheduled for March 26, was pushed back because of inclement weather and moved to Lansing's field. April 8's twin bill against Bishop Ward was also moved to the Cyclones' home field because of poor field conditions.
So it took eight games into the season, but BSHS finally got its home opener, albeit in frigid temperatures.
The Cardinals used a pair of big innings, aided by BSHS errors, to take the nightcap, 13-7, and drop the Braves to 1-9 on the season.
Highlighting the doubleheader for BSHS was junior pitcher Darian Neal's 12 strikeouts and senior Luis Gardea's four stolen bases, which inched him closer to a school record.
Gardea stole three bases in the day's first game, including home in the first inning for BSHS' first run of the game.
In both games, Eudora struck first in the top-half of the first inning. The Cardinals led 3-0 before BSHS went to bat in the opener and 5-0 in the nightcap.
A Eudora error allowed Neal to cross home in the opener, pulling the Braves within one, but the Cardinals later went back up, 5-2, in the top of the fourth.
BSHS tied it in a three-run fourth after Neal batted in Connor Byers and McDonnell and Gardea each batted in runs to make it 5-5.
Neal went on to pitch seven innings before junior Tyler Hernandez stepped in to pitch in extra innings. The Braves got out of the top of the eighth unscathed to set up a game-winning opportunity. Glenn first reached on a single to put the winning run on with no outs, and Byres was hit by a pitch, putting two on with none out. Neal flew out and Castro struck out before McDonnell batted in the winning run, aided by a wild throw by Eudora.
In the second game, which featured declining temperatures and steady wind, Eudora never relinquished a lead aided by its four-run first. Still, the Braves did briefly pull within 5-3 after a three-run third. Junior Mason Patchett reached on a walk, and senior Logan Terrell followed with a single. Sophomore Thaddeus Glenn batted in the two runners with a triple and later rounded out the Braves' scoring in the inning.
But the Cardinals again tacked on another five runs in the fourth. Four walks and numerous fielding errors kept the Braves from getting out of trouble.
While BSHS has one starting pitcher in Neal, Lero is still seeking a second consistent starter as he sent Glenn, Patchett, Blackwell, Byers to pitch each of the first four innings, with Byers sticking around after the fourth until Hernandez closed it out.
The Braves will next play Mill Valley in a doubleheader at 3&2 West in Shawnee at 4 p.m. Thursday.