BLHS

girls soccer blanked at Bonner Springs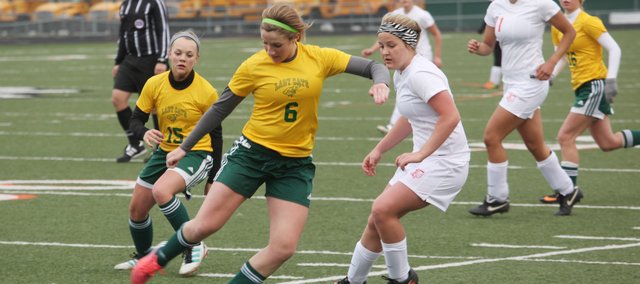 The Bonner Springs girls soccer team netted a pair of goals in each half to win its second straight on Tuesday in a 4-0 victory against Basehor-Linwood.
Freshman Miyah Hightower broke open a scoreless draw with a goal 15 minutes into the first half. BSHS kept up the pressure for most of the half, but BLHS senior Kara Stephens loomed as part of the Bobcats' attack, narrowly missing a string of scoring chances.
The Braves' second goal created controversy. BSHS freshman Julianne Jackson was awarded the goal, but initially appeared to have collided with BLHS goalkeeper Bri Kennedy, who went down inside the penalty box. BLHS junior defender Hailey Robinson inadvertently pushed the ball into her team's net following the collision. After several moments of deliberation by the officials, the score stood and BSHS found itself up, 2-0, entering halftime.
With about 27 minutes left in the game, BSHS junior Hannah Hunt padded the Braves' lead when she took advantage of a hesitant clearance attempt by BLHS in front of the Bobcats' net. Later, senior Anna Deegan rounded out the Braves' scoring when she converted a second-chance shot from close range.
BSHS (3-4) also won, 1-0, at Gardner-Edgerton on Monday. In the victory, Jackson scored off an assist from Hightower. The Braves' winning streak followed a 4-3 overtime loss at Tonganoxie on Friday.
"Overall, I thought we did an amazing job the whole game," BSHS coach Mike Moulin said on Friday. "It was just mental breakdowns. We didn't clear the ball and we over-committed on a couple."
BLHS (2-4), meanwhile, will next host Kansas City Christian at 5:30 p.m. Thursday in a game originally scheduled to be at KC Christian on Monday.
Previously, on Friday, Stephens scored twice, but the Bobcats fell, 5-2, to Piper in a game that BLHS coach Derek Mazeitis said "was a lot closer than the game indicated," adding that he thought the Bobcats' intensity level was high throughout the game.
Justin Nutter contributed to this report.