Event to benefit 9-year-old fighting multiple illnesses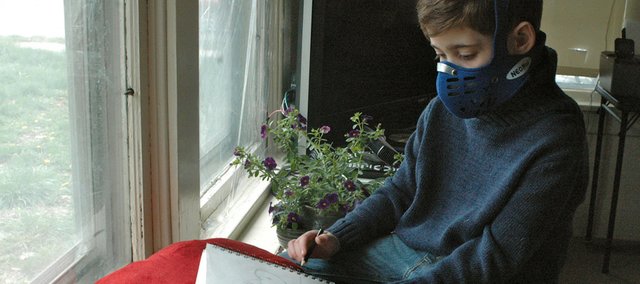 Quenten Hayes is a cheery, giggly 9-year-old who has recently discovered a love of art.
He likes to draw the birds he can see at the bird feeder outside his living room window, improving his drawing ability in the last three months.
"I got a lot better," he says, proudly showing off the bird sketches in his notebook.
Quenten hasn't had much else to fill his time. For the last several months, his immunodeficiency illness has confined him to his Bonner Springs home, allowing him to go outside for no more than 20 minutes a day. On top of a host of other life-threatening illnesses, this is even harder when he watches his three siblings go outside to play, or when they get sick and he has to be even further isolated.
"Our entire life is going to get blood drawn or lab work, going to the doctor's offices, or being home and waiting," his mother, Heather Hayes, said. "We're eternally waiting for test results, to see a doctor, to know what the next step is, and unfortunately, you kind of hang in limbo where you're either plateauing and you're doing OK today, and then tomorrow, you're not doing well."
That's why the Hayes family's church, Bonner Springs Church of the Nazarene, is holding a Fundraiser For Quenten from 1:30 p.m. to 6 p.m. Sunday at the church, 742 N. Nettleton Ave. The church will accept donations for haircuts by professional hair stylists and have a bake sale, with all donations benefiting Quenten's ongoing medical expenses.
Quenten's health problems started on Christmas morning 2009. When he woke up, his legs were purple and his knees were swollen.
At the hospital, doctors diagnosed him with Henoch-Schonlein purpura, or HSP, an autoimmune disorder in which the body attacks blood vessels. The illness continued to cause problems but Quenten eventually returned to school.
Soon thereafter, Quenten began having seizures, and an MRI showed a dark spot — likely a tumor. After months of monitoring the spot, as he continued to have seizures twice a week, doctors decided that the tumor wasn't cancerous because it wasn't growing quickly.
But in May 2010, after being anesthetized for another MRI, Quenten wouldn't wake up. When he finally did four hours later, he had an extremely high temperature and soon started breaking out in a rash and swelling.
"Within 20 minutes, liver, lungs, kidneys all failed," Heather Hayes said. "And he was intubated and they put him a medically induced coma."
After eight days, he was able to come out of the coma as most of his organ function came back, except for his kidneys. He is now in Stage IV kidney failure, with only one kidney working at 15 percent.
In March 2011, Heather Hayes had to stop working 60 to 80 hours a week as fraud investigation supervisor at a bank to stay home with Quenten.
"He just kept getting sicker, and I just thought, if something were to happen I'd never be able to forgive myself for all the amount of time that I'm gone," she said.
At one point after Quenten became E-coli septic, doctors discovered he wasn't making an antibody that helps fight infection. He was diagnosed with Complex Variable Immunodeficiency, on top of his recurring episodes of HSP. He was given an infusion of a plasma protein replacement, and doctors ordered that he be confined to his home for five months.
They also found a blood clot in his arm — requiring him now to have painful blood-thinner injections twice a day — and a hole in his heart that never closed when he was an infant.
"So he has a cardiologist and a neurologist and … lots of -ologists," Heather Hayes said.
Operations on any of these multiple problems aren't being considered until his immune system is stable.
Heather Hayes said the first time members of their church began discussing a fundraiser, the family resisted.
"I think there's a fine line between humble and humiliating," Hayes said. "We're not the type of people to say, 'Hey, will you help us out.' We will scrape and struggle in order to make it."
But when Quenten was most recently in hospital, Hayes was amazed by the support that church members provided.
"Members at the church came at 1 o'clock in the morning to be with me in ICU, or brought meals to my other kids, or helped transport them to school or church," she said.
So when the idea of a fundraiser again was broached, Hayes finally agreed.
"We are very blessed with our family members at our church, that aren't blood related, that love us so much," she said.
In late June, doctors will test Quenten to see if he is creating antibodies again. If not, he'll have to go in for regular infusions of antibodies, and they'll have to see if he can go back to school.
For now, though he misses school and church, he gets by through Skype.
"His special education teacher takes her iPad and walks through the school, and Quenten gets to say 'Hi' to people, because he's the kids that walks through the halls singing and saying hi to everybody and helping people out and smiling," his mom said. "So he still gets to kind of, in a way, walk through the hallways and brighten people's days."