Smith reflects on decade as Bonner Springs mayor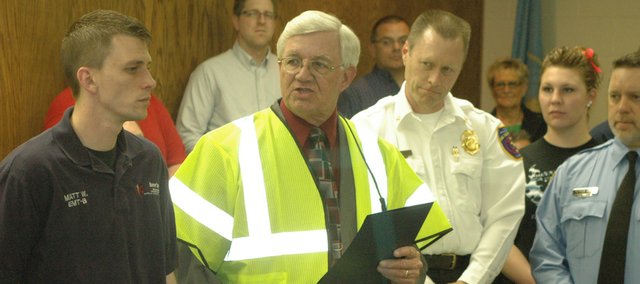 It's clear Bonner Springs Mayor Clausie Smith is known far and wide.
When a relay marathon made its way through Bonner Springs on April 6, some participants noticed the city sign stating that Smith was the mayor, prompting an email to Smith via The Chieftain.
"We're from Mulvane and had to ask: are you the same Clausie Smith that lived in Mulvane and was the editor of the Mulvane News? (We didn't think that there were two)," Sonya Schifferdecker wrote.
No, there is definitely only one Clausie Smith, both in his unique moniker and his somewhat legendary service to the city of Bonner Springs. Monday's city council meeting will mark the end of an era, as Smith will step down as mayor after a decade. A reception to honor him is set prior to the meeting, 6-7 p.m. at the Sunflower Room in the Community Center, 200 E. Third St.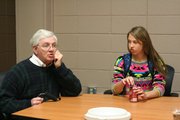 Smith has served the city in numerous ways aside from his time as mayor and eight years as a council member. He was chair of the Tiblow Days festival for 21 years and has served on the city's Band Commission since 1982. He has been on the Vaughn-Trent Community Services board since its inception in 1988. He served on the Wyandotte County United Way Board from 2001 to 2009, and rejoined the board in 2012.
A sports writer when he owned The Chieftain, he also served as statistician for the high school football team from 1983 to 2010.
Even a stroke in 2010 couldn't stop him — it only slowed him down a bit. He missed just four council meetings and never missed his column or the compilation of the "Remember When" feature for The Chieftain.
As mayor, he says his three proudest accomplishments are the new library, the new aquatic center and the casino revenue sharing agreement he helped form with the county. The night after he was first elected, Smith said his wife asked him what he wanted to accomplish. He had two goals aside from street repairs and lowering taxes.
"I said, 'What I'd do, and this will never happen, is build a new library and swimming pool,'" he said. "And it happened, thanks to the people of Bonner Springs who supported the program. The fact is, what has happened the last 10 years really is due to the people of Bonner Springs."
Smith's name might have marked him as a one-and-only since birth, but he actually is Clausie Smith, Jr. His father was named Clausen from his grandmother's maiden name.
"He hated it, so he changed it to Clausie," Smith said. "People have asked me if I'd had a son rather than three daughters, would I have named him Clausie? No."
Most are familiar with Smith's background thanks to his columns in The Chieftain.
He was born March 9, 1937, in Ottawa, and grew up in Garnett. His mother died when he was young, and then his father died when Smith was 19, leaving him responsible for his 12-year-old sister. Thankfully he had a career path and a job picked out.
"I always wanted to be in journalism, from the time a high school teacher, Mrs. Pullman, told me I had some writing ability," Smith said.
So he worked for the Garnett newspaper and learned to be a printer while he earned his bachelor's degree from Ottawa University. He then worked for the Ottawa Herald and Topeka Daily Capitol. He met his wife, Jean, on a blind date, and six weeks later, they decided to get married.
He "banged around the newspaper business" for a while, before coming to Kansas City to work in public relations for the Board of Public Utilities. He eventually was fired in one of the BPU's many shake-ups and decided he would get into weekly newspapers.
He first owned the Mulvane News for several years, then managed a newspaper group in Carrollton, Mo.
"I learned something about myself: I can't work for people, I'm too independent," Smith said. "If I fail, I'm going to fail on my own terms, not on somebody else's."
In the process of seeking another newspaper to own, he learned The Chieftain was for sale. Thankfully, his wife convinced him to get over lingering bad feelings about Wyandotte County after his BPU experience.
"I fell in love with this community," he says. "I grew up in Garnett, but I've said it many times: This is my hometown. This is my home."
Despite his love for the community, he says he never expected to become an elected official. He ran for city council the first time in 1993 simply because no one else was running for the seat in his ward, and he then ran unopposed again for reelection.
After eight years on the council, he thought he was done with city government. But two years after retirement, he changed his mind.
"I decided that I wasn't pleased with the way some things were happening, and I wanted to give Bonner Springs the best possible government with the most economical, efficient price," he said. "I wanted to improve the image of the city in the metropolitan area."
He defeated the incumbent to become mayor, and in the following four elections for two-year terms as mayor, Smith never had an opponent. But the time came to step down, he said.
"I really enjoy city government, I just feel there is a time to walk away," Smith said. "There's nothing wrong with my health, other than the fact that I don't get around as well as I used to. I just felt this was the time."
Among his accolades are the city's Marion Vaughn Community Service Award, the Boyd Award from the Kansas Press Association for community service, the Kansas Mayors Association's Mayor of the Year in 2005, and most recently, the 2011 E.A. Mosher Excellence in Local Government Award from the League of Kansas Municipalities.
In addition to residents' support, Smith credited the city staff with helping him reach his goals, in particular John "Jack" Helin, city manager, Rita Hoag, city clerk, and Marcia Harrington, community and economic development director.
One thing he would like to have seen more resolution on is the plan for the future of Kansas Highway 7, which the state wants to see become a freeway.
"It's going to be an ongoing situation for years," he said. "… It's hurt us in economic development, and some (more recent) plans are better, but we still have a way to go."
Smith has high hopes for the future of the city and for Jeff Harrington, who will take over as mayor next week.
"I think he's inheriting the city in pretty good shape, and I think Jeff will do a fantastic job," Smith said.