Basehor-Linwood, Bonner Springs track and field adjust to uncanny spring weather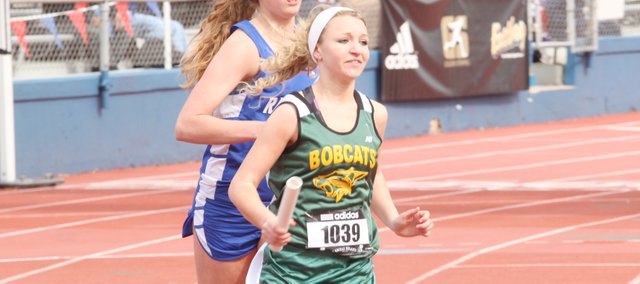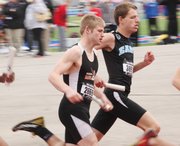 Despite 20 years of coaching track and field, Bonner Springs girls coach Bill Downing experienced a first this season.
"This is the longest I've gone without wearing shorts," Downing said on Tuesday, after the Bonner Springs Invitational was postponed a second time.
The meet is now scheduled for Tuesday, April 30. If inclement weather resurfaces, the meet will be cancelled altogether this year.
At a recent event, Downing consulted first-year Basehor-Linwood track and field coach Scott Russell, a former Olympic javelin thrower who grew up in Canada.
"I was kidding around with him the other day," Downing said, "asking, 'what did you guys do in Canada?'"
Turns out, nothing much different than down here. If a surprise snow visits in late April, you head indoors and gut it out.
"The league, regionals and state dates don't change," Russell said.
Both teams sent a group of athletes to last week's Kansas Relays, exposing them to a field that will be more competitive than anything they'll see all year — state included.
For Russell, it was a return to an event at which he won the javelin championship seven times and set the Relays record three times — doing so as recently as 2011. This time, however, was different.
"It was nice to walk in with a group of athletes I could call my athletes," Russell said. "It was kind of a surreal moment. All other times it had been about me, so now it was about sharing this experience."
Russell took a group of BLHS throwers to watch the men's elite shot put throw at the Douglas County Fairground and walked the bowl of Memorial Stadium later in the week before the Bobcats competed.
BLHS student-athletes were taken aback upon rubbing elbows with the Olympic throwers competing Wednesday, realizing that they were their coach's friends.
"To share that part of my life with them … was a great experience as a coach for the first time and being able to give the kids that first time there," Russell said.
BLHS sent a dozen athletes to the Relays. On Saturday, the Bobcats' girls sprint medley relay team of Katie Hickman, Marriah Clayton, Maecy Cooper and Quinn Walcott finished 14th with a time of 4:40.59, setting a new school record in the process.
Walcott, Haley Stallbaumer, Jamie Weible and Rebecca Carroll also competed in the finals of the 4-x-880-meter relay, finishing in 11:09.53. The boys team of Tanner Tavis, Johnny Fulkerson, Sean Potter and Eli Elliot finished in 8:58.01 in the same event.
Earlier on Saturday, Ben Johnson finished with a 150-08 in the boys discus throw.
"They will not face tougher competition," Russell said.
The Braves sent a contingent similar in size to their counterparts. Austin Schuler, Deion McQuarters, Brandan Moore and T.J. Kimbrough-French competed in the finals of the distance medley relay on Friday, finishing in 11:49.44.
In the boys sprint medley relay, Jordan Jackson, Kalim Razakhan, Jonah Freese and Schuler finished 14th in Saturday's finals with a time of 3:55.02.