Smith lauded after 10 years as mayor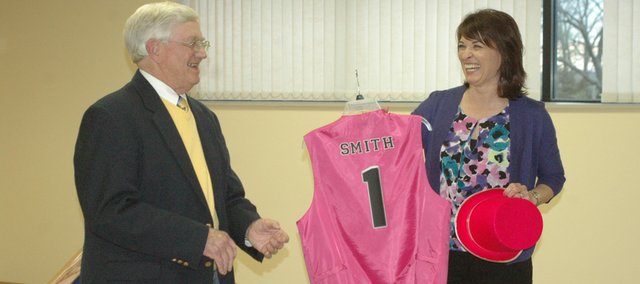 Several dignitaries from the local and state levels turned out Monday for a retirement reception honoring former Bonner Springs Mayor Clausie Smith.
Held before the city council meeting, at which Smith officially handed his gavel over to Mayor Jeff Harrington, the reception marked his 10 years as mayor and included guests such as Overland Park Mayor Carl Gerlach and Unified Government Mayor/CEO-elect Mark Holland.
Smith was recognized with a number of honors and a few silly jabs. He received an American Flag that had flown over the U.S. Capitol, a plaque with a key to the city, a proclamation naming April 22 as Clausie Smith Day, and a letter from Governor Sam Brownback.
"He doesn't just do good work locally, he does it at the state level as well," said Don Miler, executive director of the League of Kansas Municipalities. "He is respected by officials across the state."
David Warm, executive director for the Mid-America Regional Council, called Smith a "positive, consistent, steady voice for bringing this community together."
The Bonner Springs City Library, which Smith said he considers the crown jewel of the city, presented Smith with a book clock.
"He has been our staunchest supporter and always the biggest advocate for the library," said Vicky Wheeler, president of the library board.
The city's Band Commission, on which Smith has served for 31 years, noted that because Smith serves as announcer at each band concert and tells notoriously bad jokes, they were giving him a book of City Band-appropriate jokes. They also presented him with a certificate noting him as an honorary member of the Stand Up Comedian's Club.
The Marble Day Committee also recognized Smith's Grand Marshal duties in the Marble Day Wacky Parade, presenting him with a pink top hat and a pink vest with "Smith 1" on printed on the back.
The city also gave him the sign, noting him as the city's mayor and 2005-06 Mayor of the Year, from the city's entryway welcome sign at the interchange of Kansas Highways 7 and 32.
"It's been a long, interesting exciting 10 years; I have enjoyed probably 95 percent of it," Smith joked. "… Guys it's been my great honor to have served you for 10 years; I thank you for the wonderful support. What we've done has been largely due to the support of the community.
"… My first Mayor's Banquet, I used the theme 'We've only just begun.' And that is my real belief about Bonner Springs. The future is ahead of us, and the future will be brighter. We've got great leadership, great staff, and I look forward to sitting back and enjoying it."
Jeff Harrington said it was a mark of a great leader that Smith thanked others rather than tout his own accomplishments.
"Really it's us who should be thanking you," he said. "Clausie, you have gone above and beyond for so many years for so many people… they may not be sitting here this evening, but the entire town of Bonner Springs is deeply indebted to you and we appreciate you."