Losing pounds pays off for district staff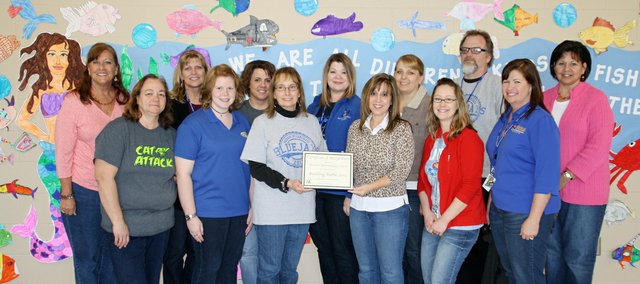 At the beginning of 2013, Basehor-Linwood School District challenged its staff to get fit, and with almost 1,200 pounds lost, apparently it's paid off.
The district named the weight-loss challenge the Building Battle, and each school plus the district office competed to see which building's team could lose the most, Superintendent David Howard said. The prize at the finish line: a day off and a cash prize from the entry fee of $5 per person.
"It's been a great morale booster," Howard said.
Not every staff member had to participate, he added, but those who did had some help with their goals. The district opened up the strength and conditioning facilities at the high school and emailed healthy recipes and fitness tips. Periodically throughout the 10-week contest, staff members weighed in to see how they were doing.
Staff members also found more creative ways to get ahead, such as sending their competitors baskets of chocolate for Valentine's Day, Howard said.
When the competition ended last week, it was team Fit and Fabulous from Basehor Intermediate School to take the cake with 190.4 pounds lost, a total of about 7 percent from their total weight. In second place was Basehor-Linwood High School with 447.3 pounds, or 5.8 percent lost, and third was the Waist Watchers from Glenwood Ridge Elementary School with 139 pounds, or 4.7 percent lost.
BIS Principal Teri Boyd said the team split the prize money up between members and BIS speech teacher Lisa Swaim, who acted as a coach for everyone and deserves special thanks.
"She inspired everybody," Boyd said.
The district has an in-service day scheduled Friday, but as winners of the building battle, BIS staff will get the day off.