Teens test their culinary skills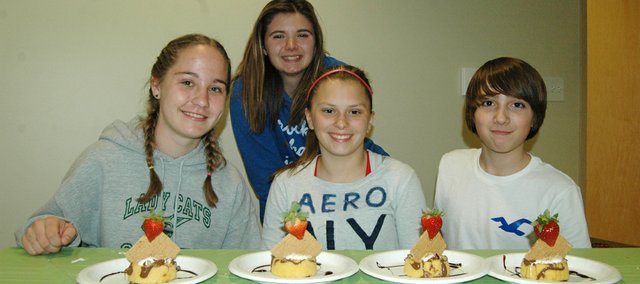 About 30 teenagers battled it out at Basehor Community Library on Tuesday to decide who would earn the title of next Teen Iron Chef.
Challenged to create a dessert dish in 30 minutes, participants were judged on taste, originality and presentation, much like the popular TV show from which the competition derived its name.
At their disposal was an arsenal of sweets, including cookies, cakes, pudding, chocolate, candy, fruit and many common baking ingredients. The catch was they had to use the secret ingredient, strawberries, and they had to write down their recipe to present to the judges.
Judging a cooking competition for middle and high school students is not for the faint of heart, but four brave judges stepped up to the plate: Friends of the Library President Emily Keifer, board member Tammy Potts, library assistant Erryn Alvidrez and previous Teen Iron Chef winner Jenna Bolend.
"I'm a little nervous because I'm a picky eater," Keifer said before the competition.
But with all the promising, delicious ingredients, they were confident that they wouldn't get anything too weird.
"I just don't want to eat anything soggy," Alvidrez said.
"Or unidentifiable," Potts added with a laugh.
From the looks of the finished desserts, the judges had nothing to worry about. Many teams used mini pie crusts and shortcakes to create pretty tarts with sweet cream cheese or chocolate fillings. A few even had ornate garnishes, delicate drizzles of chocolate or sliced strawberries fanned into a design.
The scene was hectic as participants prepared their dishes, running to microwaves to melt chocolate or hurrying to snag extra ingredients. Teammates worked together to decide what to make and who would cook each part. Some tried to pack on as many sweets or fruits as possible, while others went for simplicity.
At the end of the day it was Trinity Krouse, Angela Arwine, Kayla Loughry and Josie Swinford who took the title with their combination shortcake tart.