Laing makes it two straight in Sunflower Hills tournament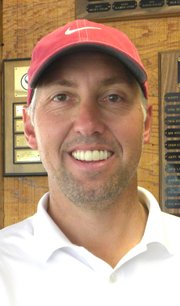 Bonner Springs High alum Richard Laing repeated as Sunflower Hills Club Champion last month, running away with the victory after shooting a 3-under-par-69.
Laing beat out Brad Ansley (73), Brian Shatto (73) and Tim Skorija (75) in the championship flight of the July 20 tournament.
Laing secured his third championship in the event, his first coming as a Kansas State University junior in 1991. Laing approached a Club Championship record with his 69, which would have joined his 1992 Wyandotte County Open record.
"I remember Steve Groom shooting a 68 once, and Jack Laurie and Jeff Sedorcek may have shot that low at one time," Sunflower Hills head professional Jeff Johnson said in a press release.
Laing shares the WyCo Open 36-hole record of 144 with Stan Wiehe and Bob Chatterton, his former BSHS golf coach. All three are expected to compete in the Aug. 10-11 tournament, the 37th iteration of the championship. Entries are still being accepted at Sunflower Hills — either by phone at 913-721-2727 or at sunflowerhills.com.