Local groups welcome new teachers to Basehor-Linwood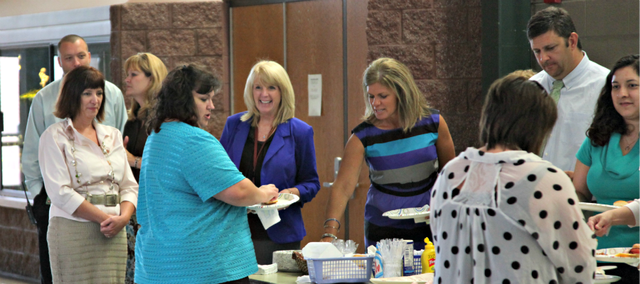 New teachers within the Basehor-Linwood school district got their first in-depth look at the district's inner-workings when they congregated Monday and Tuesday for a series of welcome events.
The district will welcome 22 new teachers for the 2013-14 academic year. Seven of those are special education teachers, who work in the district but are employed by another group. Only three teachers left to teach in other districts after last year, and this year's new group includes five brand new positions.
"We've got a great bunch of new teachers hired," superintendent David Howard said. "This is probably one of the lowest amounts of turnover we've ever had."
New teachers met Monday morning for a breakfast provided by the Association of Basehor-Linwood Educators with the help of several community businesses. Afterwards, teachers went over various district policies, including social media, bullying and student privacy. They then met at the high school for a lunch provided by Basehor PRIDE.
Teachers met again Tuesday and were each assigned a mentor who has previous experience within the district. Mentors will be available all year to discuss things like student management systems and grading.
This year's new teachers are: Joe Zlatnik, high school/middle school social studies; Kara Disberger, high school Spanish; Allyson Coy, secondary english/language arts; Molly Bovos, science; Mary Guerra, jobs for America's graduates; Ashley Slobodnik, Spanish; Ashley Driver, seventh-grade social studies; Eryn Knecht, art; Brandi Turner, reading/career planning; Kelly Courtney, fifth grade; Calesta Blazo, fifth grade; Eric Jones, elementary physical education; Tanner Milbourn, third grade; Lynette Hibbs, kindergarten; Beth Rankin, first grade.
The first day of school for kindergarten through sixth grade and ninth grade will be Wednesday, while grades 7-8 and 10-12 will start Thursday.