KU

coach Weis praises

BLHS

grad Ben Johnson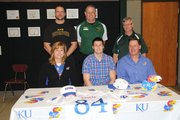 Recent Basehor-Linwood grad Ben Johnson didn't waste time this summer making an impression on Kansas University football coach Charlie Weis.
In Weis' first press conference of preseason camp, the second-year KU coach said Johnson turned in the best summer among any of the Jayhawks' newcomers.
Johnson will play tight end and wear No. 84 at KU after leading BLHS in receiving at the same position in 2012. In addition to a strong summer showing, Weis also lauded Johnson's physical transformation.
"Ben Johnson came here when I started recruiting him, he was about 210 — he's about 240 now. It probably says 238 or something but he looks like a totally different person," Weis said.
Junior Jimmay Mundine, 6-2, 240, has firm footing in the starting lineup, but Weis said that there was a lot of depth at the position. Among the newcomers, Weis heaped praise on Johnson and redshirt freshman tight end Jordan Shelley-Smith.
"(Senior) Charles Brooks is still in contention there, but I want to see what those young guys can do in a hurry because I've been really high on Jordan Shelley-Smith and Ben Johnson had the best summer of any of the young guys on the field."
KU will open its season on Sept. 7 against South Dakota at Memorial Stadium in Lawrence. It will also be a reunion of sorts for Johnson and fellow BLHS grad Drew Potter, who joined the Coyotes after graduation. Potter is listed as a fullback and will wear No. 41 this season.
Listen to Weis' Aug. 7 press conference here at KUSports.com. His remarks about the Jayhawks' tight ends begin near the 12:30 mark.