Basehor school board introduces new teachers, approves budget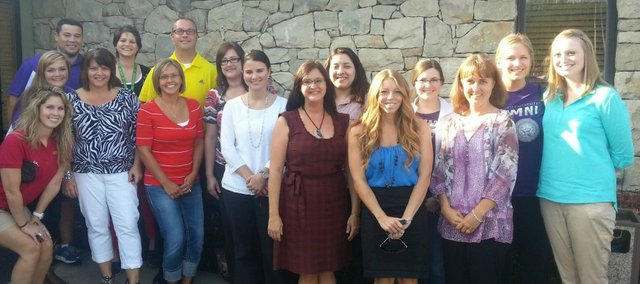 The Basehor-Linwood school district's new teachers were introduced Monday at the school board's monthly meeting at the district offices. The district will have 15 new teachers ranging from elementary school to high school in 2013-14.
Teachers met for three days of training last week. During that time, they toured the district facilities, went over goals and other pertinent info and met with their mentors, who they'll have for the duration of the school year.
This year's new teachers are: Joe Zlatnik, high school/middle school social studies; Kara Disberger, high school Spanish; Allyson Coy, secondary english/language arts; Molly Bovos, science; Mary Guerra, jobs for America's graduates; Ashley Slobodnik, Spanish; Ashley Driver, seventh-grade social studies; Eryn Knecht, art; Brandi Turner, reading/career planning; Kelly Courtney, fifth grade; Calesta Blazo, fifth grade; Eric Jones, elementary physical education; Tanner Milbourn, third grade; Lynette Hibbs, kindergarten; Beth Rankin, first grade.
"We're very excited to introduce our new staff," superintendent David Howard said. "We have some great new teachers hired and we're excited to have them with us this year."
In addition to its 15 new teachers, Basehor-Linwood has added the services of seven special education staff members, who are employed by Leavenworth County. Those teaching in Basehor this year are Julie Coffey, Amy Cook, Brenda Crawford, Rachelle Hill, Jennifer Smith, Shaymarie Genosky and David Taylor.
Before introducing the new staff, the board conducted a brief budget hearing for the proposed 2013-14 budget. The budget was later approved with no additional conversation.
In other business, the board:
• Approved, 7-0, an early graduation request for Mary Beth Pedroza, an incoming junior at Basehor-Linwood High School. Pedroza plans to graduate in May 2014 and attend Kansas University to study music and possibly psychology. Additionally, three incoming seniors — Amanda Batesal, Brooke Oleson and Tori Powell — plan to graduate at the end of the fall semester.
• Heard enrollment estimates for the 2013-14 academic year. Initial head counts showed a total increase of 87 students from last year. Estimated enrollment for elementary schools was 963 (up from 923), middle school was 507 (up from 487) and high school was 654 (up from 600). Virtual school had a head count of 180, but it was not yet clear which students could be counted as full-time. Kindergarten through sixth grade and ninth grade started school Wednesday, while grades 7-8 and 10-12 started today.
• Heard an update from Howard on the installation of wireless internet at the middle school. Installation is complete, but the locker rooms and small gyms are currently not covered. Additionally, the district is still working with WOW! to increase the district's bandwidth from 50 to 100 megabytes, which would cost an additional $1,000 per month.
• Heard an update from Howard on a water leak on the high school roof above the social studies department. The district has been recommended to cut out the section of the roof and replace it. The structure is under warranty, so the repairs will be of no cost to the district.
• Approved amendments to several district policies, including whistleblower protection, bullying by staff, memorial and naming of district facilities, tobacco and e-cigarettes, emergency safety intervention, salary deductions, staff online activities, sexual harassment, bullying by parents and release of student records.
• Approved, 7-0, resignations of first-grade teacher Emily Brown, middle school FACS and reading teacher Donna Gunter, custodian James Metz and Glenwood Ridge classroom aide Suzie Ashwell.
• Approved, 7-0, appointments of first-grade teacher Elizabeth Rankin, custodian Shermann Smith and food service employees Robin Cordy, Danielle Huber, Amy McKissick and Lynda Engler.