BLHS

mixed chorus bound for state convention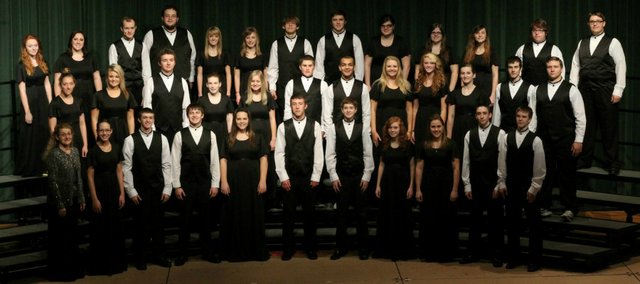 The last year has been somewhat of a roller coaster for the Basehor-Linwood High School mixed chorus, but the 2013-14 school year recently started off on a high note.
In May of 2012, the group auditioned for the Kansas Music Educators Association Convention, which annually features the state's top bands, jazz bands, choirs and orchestras. A few months later, singers learned they were selected to perform the following February, and the real hard work began. Seven months of preparation, including work with clinicians and college professors and an extra concert at a local church, took place over the course of the school year.
But, thanks to some untimely winter storms, a sense of anticipation was quickly replaced with one of disappointment. Adverse weather forced KMEA to cancel the convention, ultimately casting months of work asunder.
"It was just disbelief. It was so much hard work in that the kids had really risen to the occasion," director Wendi Bogard said. "We had prepared ourselves mentally for it and we were ready to go, and then to have it snowed out after working since August, it was pretty devastating."
Despite watching all the preparation go for naught, Bogart knew the group would be strong again this fall. She re-submitted the application materials — unedited recordings of three contrasting songs — to KMEA at the end of the school year. Earlier this month, the group was once again informed it had earned the chance to perform for music teachers from across the state at the Century 2 Convention Center in Wichita.
"I told the kids 'I'm stubborn enough. We're doing this again. You guys have got to go,'" Bogard said. "I knew I would have enough coming in (this) year, so we submitted and had to wait all summer long."
Bogard, also the choir director at the middle school, will once again dedicate this year's mixed chorus curriculum to preparing for the convention, schedule for Feb. 28. The group will try out most of its seven-song playlist on local crowds before the convention, as it will perform three of its KMEA songs each at its fall and winter concerts. The fall concert will be Oct. 16 and the winter concert Dec. 16. Bogard said a seventh song will likely be added in January.
This year's group is comprised of 35 singers who had to audition for spots. Bogard said having an abundance of veteran singers — particularly a senior-heavy group of boys — weighed heavily in her decision to re-apply after last year's cancellation.
"If it would have happened one year later, I probably wouldn't have re-submitted," she said. "Some years, I'll graduate so many kids out that it's just not going to be the same type of group. I told the kids I was going to re-submit not knowing if our recording would be good enough this year, so it was a great relief when that finally came through."
The group will sing in a division with other groups from schools of similar sizes. The convention annually features groups ranging from elementary school to the collegiate level.