BLHS

wrestling team hopes to carry summer momentum into school year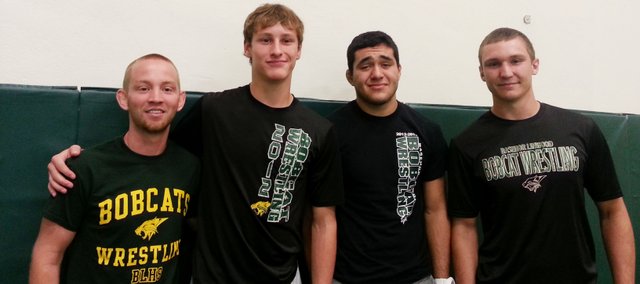 Stepping onto the mat and seriously contending hasn't been a problem for Basehor Linwood wrestlers as of late.
The issue will be how to capitalize on this summer's successes and translate that into a winning season come November. BLHS coach Tyler Cordts hopes this is the season the Bobcats are on everyone's radar and become the team to beat.
"Right now, I'd say sky is the limit," Cordts said. "We've really put that much into it this summer and my expectations are just so much higher than they were last year. We are going to have a solid duel team and we will be tough to beat. We will start making some noise at the state tournament this year and should have many on the medal stands."
During Cordts' first year as BLHS head coach, the Bobcats went 5-4 in duels and failed to shine in many of the tournaments. But this summer, the team went 15-1 in duels, something that hasn't happened at BLHS for many years, including going undefeated during the Summer Scuffle tournament in Baldwin City.
Cordts is counting on an experienced group to continue competing and working like they have all summer in preparation for the upcoming season.
"I don't think this program had really been exposed to summer wrestling and it was pretty crazy because we practiced all throughout the summer," he said.
Starting in June, wrestlers began 6:30 a.m. workouts four days a week and would return in the evening to wrestle. BLHS hosted a wrestling camp in July and participated in a couple area tournaments.
The Bobcats traveled to Iowa for the Iron Sharpens Iron Camp from June 9-13 and ended up placing third out of the 40 teams there.
Senior 152-pounder John Hopper (30-12 in 2012-13) went 15-0 at the camp and said he enjoyed the notoriety that came with it.
"It was cool that a bunch of kids were talking about me and I didn't know them but they knew my name," he said.
The camp's focus strayed from typical technique drills, allowing the participants more time to duel, which Hopper said was beneficial to see other wrestlers.
"Competition was very hard and it wasn't just pin and win," he said. "You had to grind out to get the victory."
Fellow senior Cory McCleary (28-15), who wrestled at 145 last year but will compete at 160 this year, said the Bobcats are succeeding more as a team versus having just one standout individual.
"The duel tournament in Iowa was awesome and we went 9-1," McCleary said. "That's never happened before because we mostly had one or two great wrestlers, but now we are more of a team."
Senior and 138-pound wrestler Dalton Inlow made the transition to a varsity wrestler this summer and Cordts considers him the most improved wrestler on the roster.
"He just came on so strong this spring and summer by working hard and has really brought it (his wrestling) to a new level," Cordts said. "I have real high expectations for him next year."
As does Inlow.
"I feel like I can do a lot better and I should at least place in every single tournament we have," Inlow said. "Hopefully I can place in the top four in state at least."
Other Bobcats who had a great showing this summer were Shayn Morris wrestling in the 106-pound division and Zack Carter competing in the 195-pound division.
Incoming freshman Corbin Nirschl is also expected to garner some attention wrestling at either 106 or 113 pounds. Cordts said he wouldn't be surprised to see him medal at the state tournament.
One new face to the coaching staff is Joe Zlatnick, who will be joining Cordts and returning coach Travis Phippen. With a strong wrestling background, Zlatnick can bring something to the coaching staff that was lacking before: size.
"What is really key about him is he's a big guy," Cordts said. "We didn't have a whole lot of size in our coaches."
As summer concludes and school is back in session, the Bobcats will look to resume workouts sooner rather than later for their season that begins in mid-November.
"It was a great summer and I just hope we can keep that momentum going in to the next year," Cordts said. "They put in so much hard work and that hard work is going to pay off for them. I'm really excited for the year.