Bobcats bear down on defense, expect to fly under radar in 2013
Photo Gallery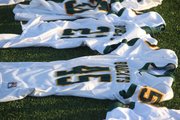 Meet the Bobcats 2013: Football Scrimmage
The BLHS football team scrimmaged on Aug. 29, a little more than one week before the 2013 season was to kick off.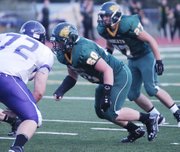 Basehor-Linwood (4-5 in 2012)
• 9/6 at Bishop Ward
• 9/13 at Piper
• 9/19 vs. Mill Valley
• 9/27 vs. Lansing
• 10/4 at Turner
• 10/11 vs. Bonner Springs
• 10/18 vs. Jefferson West
• 10/25 at Perry-Lecompton
• 10/31 at Tonganoxie
Seeking contributors
The Chieftain and Sentinel is seeking to expand its coverage of Basehor's and Bonner Springs' student-athletes. If you are a student journalist, community member or general sports enthusiast, contact sports editor Stephen Montemayor at smontemayor@theworldco.info for more information. We are seeking to publish scores, stats, feature stories and photos of athletes from Basehor-Linwood and Bonner Springs High Schools as well as area middle and elementary schools.
The Murphy twins helped lead the Basehor-Linwood football team deep into the 2011 4A playoffs. Ben Johnson and Drew Potter racked up team-high numbers and landed Division I scholarships last year. It seems, lately, the football stadium behind BLHS has been a canvas on which to etch legacies.
But 2013's seniors aren't talking about legacies right now. At least not to anyone but one another.
"We don't really worry about legacy. We want to win. … We have a lot of chemistry and care about each other," Jake Phillips said. "Obviously we want to leave a legacy, but we just want to leave a positive impact on the younger guys as the players before us did."
After going 27-4 from 2009 to 2011, BLHS fell to 4-5 in 2012, missing out on the playoffs after a tough 18-11 loss to Tonganoxie. This year, the Bobcats must replace much of what was left of a stripped-down 2012 offense.
Phillips (95 tackles in 2012) will be one of two seniors — alongside Cory McCleary (122 tackles) — who will be heavily relied upon to lead the BLHS defense, arguably the team's strength and best shot at making noise in a Kaw Valley League increasingly filled with high-octane offensive attacks.
Sanders' turn
After a two-headed quarterback attack in 2012, BLHS will return to having a single starter behind center. Senior Tim Sanders will direct the offense and Hopkins said Sanders is ahead of schedule in rehabilitating an ankle sprain suffered during a June basketball tournament. It's a good thing, Hopkins said, because Sanders' progress has allowed BLHS to practice the read-option attack he said high school offenses need to adopt to succeed.
"We have to have that just to practice against," Hopkins added. "If we don't practice against it, we can't defend it. We have to have it with a good quarterback who is a threat to run and pass so our defense can prepare for it."
Sanders didn't see the field until late last season after he initially planned to solely focus on basketball. An injury kept him sidelined for a while longer and after a few junior varsity games, he was brought in late against Tonganoxie in October with a playoff spot on the line.
Hopkins said Sanders brings a strong arm to the position and isn't afraid to throw the deep ball.
"If the reward is a deep ball, let's take chance on that reward," Hopkins said. "Probably what he brings is a deep threat in our passing game now. No matter what we did last year, we could rarely get it deep."
Back for more
Broc Lindsay will be one of the Bobcats' top returning receivers, and Hopkins said he might line up at tight end as much as he does wide receiver.
"He's stronger and thicker, and to be honest has embraced blocking," Hopkins said.
Jahron McPherson is back for a sophomore season after seeing time as a kick returner last year. McPherson and Dalton Inlow will rotate at receiver, Hopkins said, because both will also see time on defense. And Boston Henry returns at tight end after sitting out his sophomore season with a torn ACL.
In addition to seeing snaps at defensive end and linebacker, Phillips will also be involved at running back, where both he and fellow back, Alex Jackson, will be counted on to catch the ball, too.
Defense will be a strength on this team as three of the Bobcats' four defensive linemen return in addition to two defensive backs and two linebackers. Nick Chaney and Jay O'Brien will be among the top returning talent to the trenches.
Hopkins is also pleased with the strides made by senior Gage Wiser, who shed 35 pounds and committed himself to kicking and punting.
"He doesn't look anything like he did as a freshman," Hopkins said. "He came to me three weeks ago and we had a good talk. He decided to kick and punt only and he's really embraced that."
BLHS will open its season at 7 p.m., Sept. 6 at Bishop Ward.
Stay tuned next week for a preview of all BLHS fall sports.