End of an era as Bonner Springs seniors seek final football playoff push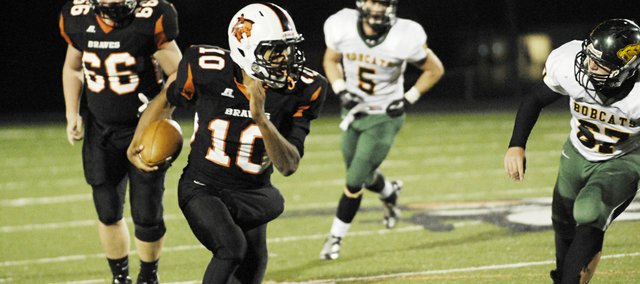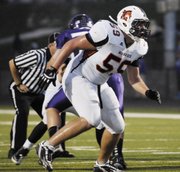 Bonner Springs (3-6 in 2012)
• 9/6 vs. Turner
• 9/13 vs. Lansing
• 9/20 at Bishop Ward
• 9/27 vs. Piper
• 10/4 at Mill Valley
• 10/11 at Basehor-Linwood
• 10/18 vs. De Soto
• 10/24 at St. James Academy (at St. Thomas Aquinas)
• 10/31 at Spring Hill
Seeking contributors
The Chieftain and Sentinel is seeking to expand its coverage of Basehor's and Bonner Springs' student-athletes. If you are a student journalist, community member or general sports enthusiast, contact sports editor Stephen Montemayor at smontemayor@theworldco.info for more information. We are seeking to publish scores, stats, feature stories and photos of athletes from Basehor-Linwood and Bonner Springs High Schools as well as area middle and elementary schools.
On Sept. 21, 2012, the Bonner Springs High football team carried a 3-0 record into its league matchup at Piper, also unbeaten.
The game lived up to the hype: quarterback Jordan Jackson accounted for all but 47 yards of the Braves' offense, piloting BSHS to a 20-14 halftime lead. But the Pirates slowly hacked away in the second half, forcing overtime and stifling Jackson at the goal line on the game's final play. And, seemingly like that, what had once appeared to be twin ascendances by KVL contenders proceeded in opposite directions.
BSHS wouldn't win another game, the heartbreak of the O.T. loss and a rash of injuries proving too much to bear. The Braves finished 3-6, missing a return to the playoffs and never really looking like much of a cohesive unit.
"When we went into Piper, we felt like we were bulletproof," BSHS coach Lucas Aslin said. "We felt like we really could've/should've probably won the game but didn't. Confidence-wise that just crushed the kids."
Curtain call
Jackson, now a senior, enters his third season as starter and he'll again be looked at to carry much of the load — in 2012, he represented more than 77 percent of the Braves' total offensive yardage and more than 85 percent of their touchdowns.
This year, meanwhile, the Braves return as many skill position athletes as any team in the league. Senior Jared Knershield is back at running back after an injury-plagued junior season, as is sophomore Marcel Holmes and junior Brian Lanning.
"We don't lose a ton from last year," BSHS coach Lucas Aslin said. "We're also going to try a lot more one-way football than last year."
Aslin began easing many of his players away from playing on both sides of the ball and said BSHS may have just one two-way player: Jackson, who also figures to see time at safety.
"I found last year that my biggest mistake was playing guys both ways thinking it was going to be a good thing," Aslin said. "It ended up not being a good thing for some of those kids."
So Aslin had a draft, so to speak. Senior Kyle Dumler, one of the team's top college prospects, will shift to defense. Aslin added that Dumler (6-foot-4, 315 pounds) may also see the field as an extra tight end on some plays. Les Wessel, Jake Wylie and Jonathan Carter return to anchor the offensive line. Carter started the second half of last season, meaning the Braves would need to replace two 2012 starters at most.
Their performance is paramount to the Braves' success as so much of the team's offense rides on Jackson's ability to make plays.
"We expect a lot from Jordy," Aslin said. "The big thing we're trying to tell him is this year is your last year. We did have to count on him to get most of the stuff last year, but we don't want (him) to put too much pressure on (himself), he just has to find ways to get more people involved this year."
Supporting cast intact
Gone from the Braves' offense last year was Stevie Williams at wide receiver and Jackson's older brother, J.J. Jackson, at running back, two key cogs in the offense Jordan Jackson ran as a sophomore.
"Last year we didn't have anybody of that caliber to help him out like that," Aslin said. "I think we've developed some guys of that caliber and they can help him out."
Sophomore Connor Byers, who will again back Jackson up at quarterback, will also line up at receiver. Aslin also praised Travis Dooley's performance in spring and summer practices. Jonah Freese figures to add size to a receiving corps that will include Weston Vitt and Hayden Hoffine. The Braves meanwhile lost senior tight end Darian Neal, whom Aslin pegged as a starter, after Neal went down with an ACL injury at the team's Emporia State camp.
Aslin, a third-year BSHS coach, said he took a more hands-off approach this summer, allowing his leaders to step up their direction.
"I told the guys, 'I'm going to try let you guys do a little bit more,'" he said. "I let Jordy call a few more plays in the scrimmages and let some of defensive guys make own calls to try to find leaders here and there."
BSHS opens its season at 7 p.m., Sept. 6 against Turner. Three of the Braves' first four games are at home, including, yes, a Sept. 27 rematch against Piper.
Stay tuned next week for a preview of all BSHS fall sports.