Management of head injuries evolves as athletic departments adopt new procedures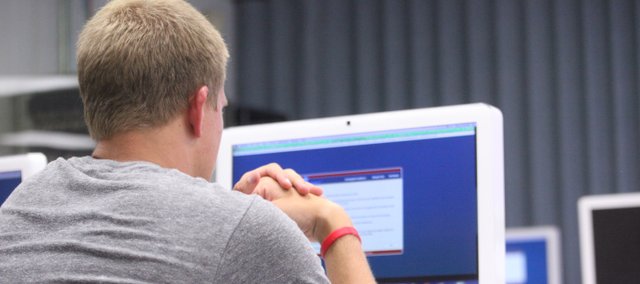 One afternoon before the fall sports season began for Basehor-Linwood student-athletes — before the football team even began full-contact practices — more than a dozen football players pooled into a multimedia room inside the school.
Before they could get started preparing for the 2013 season, the players first had to sit down in front of a computer for 40 minutes. Before pads and helmets cracked outside, the only sounds of this portion of practice involved the hum of an air conditioner and the clicking of computer mice.
In its second year at BLHS, the ImPACT Concussion Management Model is the latest tool being used to try to avoid returning concussed athletes prematurely and thus avoiding the risk of them sustaining long-term brain damage.
BLHS began using the program last year on a trial basis after head athletic trainer Robert Hojnacki encountered ImPACT at a summer training symposium. At first, only football players and cheerleaders were tested. Now, after athletic director Joe Keeler decided to sign on for a full package with ImPACT, all BLHS athletes are being tested. Freshmen beginning a given activity must be tested and new baseline tests will again be re-administered two years after a student-athlete's initial test. That means everyone, from a linebacker on the football team to a member of the golf team, must have a baseline test on file before they can participate in an activity.
"If they're involved in physical types of activities," Keeler said, "we made a decision to test everyone. They are all going to do it."
Extending the test to all students involved in an activity is important, Hojnacki said, because the risks for head injuries in other sports can often be overlooked. Revelations as to the risks and long-term effects of concussions in football has been the subject of numerous studies, stories and documentaries. But the threat exists elsewhere.
Like wrestling, where student-athletes can sustain concussions after crashing to the mat or inadvertently butting heads. Hojnacki also recalled releasing several soccer players to leave a game with their parents early after they were struck in the side of the head by the ball. And among the scariest sights and sounds Hojnacki has encountered have occurred on a basketball court: the image and sound of a player's head bouncing off the hardwood.
'The old school is dead'
The program is the latest in a string of both technological and informational changes in how head injuries are identified and managed in all levels of sport — BLHS student-athletes were reminded that they were completing the same tests being used by NFL and NCAA athletes.
Both BLHS football coach Steve Hopkins and Keeler like to joke about how long they've been involved with high school sports. Keeler said he played "back in the Paleozoic era." Hopkins is a little less self-deprecating, saying he's been coaching "for about 7,000 years." But for as old school as Hopkins said he can be, he has drawn the line at player safety.
"The old school is dead when it comes to concussions," Hopkins said. "When it comes to heat, concussions and injuries you've got to move with the times. I couldn't live with myself if I couldn't change with the times."
At Bonner Springs High, BSHS athletic director John Hilton said, the school is taking a similar path to concussion management. Hilton said the school has partnered with SAF-K — the Student Athlete Foundation of Kansas — a concussion management program, to establish a full-time athletic trainer tasked with looking for concussion symptoms at both games and practices. SAF-K athletic trainers also work at Lansing High, Leavenworth High, Piper High, Turner High, Bishop Ward High and five high schools in the Kansas City, Kan., school district.
Failure not an option
Jokes filtered in the back of the room as BLHS seniors who hadn't tested a year ago flippantly suggested to Hojnacki that they'd intentionally fail so it'd be easier to pass a test to return to play. In reality, however, the practice of intentionally performing poorly on the baseline test has been well-crafted. Hojnacki recalled that while as an intern at Washburn University just three years ago, similar tests consisted solely of a paper questionnaire that athletes could memorize to "trick the system."
Back in the multimedia room, Hojnacki smiled, deflecting the jokes and adding a bit of reality.
"People have been known to fail so they can get back more easily," he allowed. But the program can also prompt trainers and coaches if it suspects an athlete of achieving a low score intentionally, he added.
"If it's low on purpose," he continued, "you have to retake it. Retakes will be during practices, and you'll need to then make up that practice, too."
Not a cure-all
The test puts its subjects through a number of memory and reaction-time tests, some more difficult than others. At the beginning, one such test involved remembering shapes. But these shapes weren't your run-of-the-mill, circle/square/triangle fare. Instead, players had to memorize three shapes that looked like a squiggly line with arrows and later pick them apart from nine other shapes. Further complicating matters, at the end of the test, they were again confronted with the task of recalling their assigned shapes, although they weren't again shown the shape they once had to remember.
"I stress to them that this is the same thing Division I athletes are doing, so if you have any aspirations of playing at the next level, you're going to be seeing the test again," Hojnacki said. "So you might as well get used to it at the high school level."
Coaches and trainers alike are quick to point out that the tests are not a cure-all. Hopkins said too many parents — and athletic programs, for that matter — tend to adopt that thinking. There are a lot of symptoms of concussions that can't be captured with a baseline test.
And the test is just that, Hojnacki added, a means to produce a baseline.
As new technologies and ways of managing head injuries in sports emerge, previous ways of thinking will be challenged, even toppled. And tools like baseline tests will need to be thought of with more nuance.
"That's the one thing — especially from high school athletes — that is the biggest question: 'Why am I taking this now? I don't have a concussion?" Hojnacki added. "It's not telling you if you have one or not, it's telling you where you should be starting at."