Bonner resident opens auto repair shop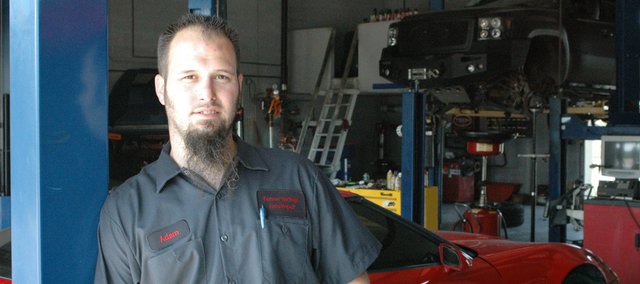 Coming from a small town of about 300 people, Adam Koch said he felt at home when he moved to Bonner Springs.
And after 13 years of experience in automotive repair at Chevrolet dealerships, when he found an opportunity to own his own business in his new hometown, Koch said he jumped on it.
Koch opened Bonner Springs Auto Repair last month at 13040 Canaan Drive, taking over the lease on the automotive repair building from a Meineke chain location that had closed its doors. The shop offers a variety of mechanical services, including oil changes, engine overhauls, custom exhaust and accessory installation, and tire repair.
"I feel like I can offer a lot more to people owning my own shop than working at the dealership behind closed doors — nobody really knows who I am, nobody knows what happens back there," Koch said.
Koch grew up in north central Kansas and got his first few years of experience working at a dealership in Manhattan. In 2002, he moved to the Kansas City area to work at a dealership in Johnson County, and he moved to Bonner Springs in 2005.
He said he remained here with his wife and two children because they liked the small-town atmosphere, but he didn't like the 20-to-30-minute commute to work. So for the past two years, he had been looking into opening his own business. When he learned Meineke was closing, he saw his chance.
"I had looked at other buildings, but it just cost so much to get into them; this place was a turnkey deal, basically," he said.
Business was hopping the first two weeks, between former customers, neighbors and those who didn't know Meineke had closed and decided to give the new business a chance.
Koch says he also has built race cars for friends and clients in his spare time, giving him some expertise with Corvettes, Vipers, hot rods and classic cars. While he knows domestic vehicles best, Koch said he can work on just about any make of vehicle.
"If we can't do it, I've got tons of people who can do it," he said. "I can get your car fixed, whether it's here or with somebody that I know, somebody that I trust that can do the same quality work that I would do."
Bonner Springs Auto Repair can be reached at 913-721-2500.