First
BLHS

boys soccer alumni game testament to growth of program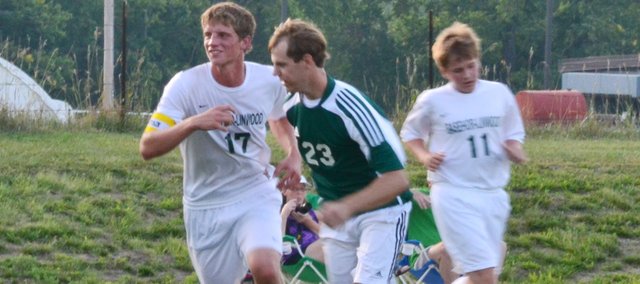 Former Basehor-Linwood soccer player and coach Austin Knipp has wanted this alumni game to happen ever since he graduated. It's a newer program, so the alumni base has needed time to grow.
After graduating 12 seniors last season and Knipp having connections to many of the players who have come through the program, this year seemed like the perfect time to hold its first ever alumni game — which took place on Aug. 23.
"It means a lot," Knipp said. "I've been a Bobcat since the beginning and it's awesome that we could do this. I think the crowd enjoyed it."
Normally, these games have a full roster of current players using this as an early-season exhibition and a varied number of alumni with some who break down after 10 minutes of physical exertion. To the testament of this BLHS program, the alumni side was 20 players strong, almost as many as the younger team.
"I'm really surprised that they kept their strength up," senior Eric Purrington said, as the spry alumni gave the high school players all it could handle.
With a surprising number of students, parents and members of the community filling the stands, it just reaffirmed to first-year head coach Erik Jones that this school had a strong following. He just hopes his players realize it, too.
"I think tonight really showed them what this program is about," Jones said. "The older guys really want the younger guys to succeed, so they really learned what kind of community and program they're a part of."
The night was dedicated to the alumni, but the incumbent Bobcats start the season this Friday against Maranatha Academy. There was some value from this friendly little matchup.
"It showed that I wasn't really ready for a game quite yet, conditioning wise," senior Sean Potter said. "But the first half was really good."
The Bobcats had just finished two-a-day workouts and this game was a way to, more or less, celebrate the end of a long summer. Then there are the former players like Knipp who are just looking for an excuse to take the field, trying to make this an every-year event. The Bobcats' former coach has yet to shake his passion to teach.
"Obviously while I'm out there," he said, "I'm slyly giving them some pointers, trying to help them out because I want them to succeed."
Still trying to find the right full-time job, Knipp gives Jones his full support and is confident the BLHS soccer program will develop into a respectable program so players want to come back.
"I'm not out there trying to take his spot by any means, but I want to see him do well," Knipp said. "I definitely miss it, but I think everything worked out the way it was supposed to."