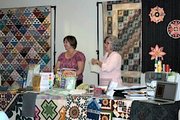 With nearly four decades each of quilting experience, Donna Thomas and Barb Eikmeier have seen some vast changes in the industry. Both have gained a wealth of knowledge on the subject over the years, writing books and teaching on multiple continents, and they recently teamed up to bestow some of that knowledge among the Basehor community.
Thomas, a Basehor resident, and Eikmeier, a Lansing resident, recently gave a presentation at the Basehor Community Library, highlighting advancements in the quilt-making process since the 1970s.
"We decided to combine forces for the library presentation," Eikmeier said. "It was Donna's idea to do something for our community. I participate in a writers group (at the library) and Donna is a resident, so we thought it was a nice place to do it."
The duo arranged tables in a timeline format, displaying tools, literature and other information from each decade. Since the 70s, quilting has evolved from a primarily hand-made skill to a process involving computers in the five-figure price range.
"The things we do now and the way we make quilts don't look anything like they did in the 70s," Thomas said. "Everything has changed completely. In the 70s, a lot of groups got together. Nowadays, there's a lot of online communication."
The presentation drew a crowd of 38, and select pieces are still on display at the library.
Thomas and Eikmeier both taught quilting classes while their husbands were in the military. They learned of each other through their students, but didn't officially meet until both coincidentally moved to Kansas in recent years. Before officially uniting, though, they spent time sharing their quilting knowledge from coast to coast and beyond. Both have taught in foreign countries — Thomas in Germany and Eikmeier in South Korea — and have had multiple quilting books published by Martingale, Inc. Thomas currently has 14 books and a 15th in production, while Eikmeier has four. Some of Thomas' books are available in different languages.
Both still teach classes individually across the U.S., making stops at various quilting shows and conventions throughout the year.
"We have our own websites and travel and teaching schedules that we've been doing for years," Thomas said.
Thomas specializes in piecing, a geometric-based process in which the quilter cuts up pieces of fabric and arranges them side-by-side. Photos of her work are available on her website, donnalynnthomas.com. Meanwhile, Eikmeier specializes in applique, in which a quilter cuts free-form pieces of fabric and applies them to a larger block. Her work can be viewed on her website, barbsfavorites.com.
Both processes only involve the creation of a quilt's top. In most cases, once a top is created, it is sent to a professional quilter for the addition of filling and a back.
"There are a lot of people like me who call themselves 'toppers,' but quilting is the stitching that actually holds the quilt together," Thomas said.
Thomas said quilting is a $3.5 billion-per-year industry worldwide, adding the average quilter spends about $3,000 annually on supplies.