Five impressions after 2013 Meet the Bobcats
BLHS

football scrimmage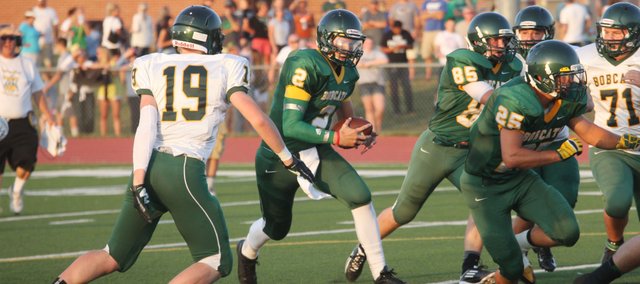 Photo Gallery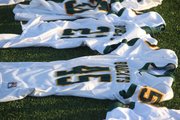 Meet the Bobcats 2013: Football Scrimmage
The BLHS football team scrimmaged on Aug. 29, a little more than one week before the 2013 season was to kick off.
Five thoughts after Thursday's Meet the Bobcats football scrimmage.
Expectations for BLHS football may be at their lowest entering this season, and that may not be a bad thing:
I talked to a few community members who expressed that expectations weren't very high for BLHS football — basically echoing a sentiment that has been filtering amongst those who follow KVL football. That said, I don't see that as a negative — in fact, BLHS seniors have made a point of planning to surprise people in 2013. To me, the Bobcats do have enough question marks that a three-win season isn't out of the question. Then again, I could just as easily see a few breaks go their way and see the Bobcats sneak back into the playoffs one season after coming up just one score short. Don't discount BLHS' ability to field upwards of 80 players this year, quite a feat for a 4A program.
Tim Sanders looked very sharp at QB:
Yes it was against the Bobcats' No. 2 defense, but Tim Sanders looks ready to take over at quarterback this season and showed no signs of being slowed by an ankle sprain suffered during a June basketball tournament. Sanders did a nice job spreading the ball around, favoring Broc Lindsay, Lane Roberts and Boston Henry, completing a late touchdown pass to the latter. Sanders will bring something to the table missing last season: a proficiency throwing the deep ball. After overthrowing Jahron McPherson on a 70-plus-yard attempt, Sanders sharpened his accuracy and completed multiple downfield passes. Oh, and about that ankle again: Sanders took off for several runs of more than 20-yards on Thursday, showcasing an ability to make something out of a broken play. Don't discount the possibility of Sanders being a darkhorse quarterback in a KVL already replete with accomplished signal callers.
New faces with impressive resumes:
Among the new faces out this year are a pair of upperclassmen coming off a pair of respective strong seasons in other BLHS sports. Cory McCleary recruited wrestling teammate John Hopper, who was one of the area's most improved wrestlers in 2012-13 and is coming off a very strong summer, to come out at linebacker. Meanwhile, one of the school's top powerlifters, Brett Fritz, took snaps at offensive and defense line on Thursday. I remember visiting with strength and conditioning coach Ross Schwisow last year, who could only shake his head at imagining what effect Fritz would have had on the 2012 Bobcats. Meanwhile, BLHS girls basketball coach Jason Tatkenhorst watched from the bleachers as his freshmen sons, Kurtis and Kade Tatkenhorst, made their debuts. Kade is a 6-2 freshman who will play quarterback, wide receiver and defensive back at some point. Meanwhile, Kurtis is also listed at 6-2 and is expected to play tight end and linebacker.
No sophomore slump:
Jahron McPherson's first impression as a BLHS football player was his bursts of speed in the return game, flashes of brilliance that perhaps signaled what was to come. McPherson looked a little taller and appeared to have added some muscle in the offseason. He will primarily play defensive back and also line up at receiver — he was targeted on a deep ball early during Thursday's scrimmage. But perhaps McPherson's most impressive plays on Thursday involved a pair of blocks that sprung big gains for BLHS running back Alex Jackson and, later, backup quarterback Dalton Inlow.
How about that weather?
It was nasty hot, yes, but that had zero effect on the evening. Parking was as scarce as it is during a regular season game and a steady breeze certainly didn't hurt matters. That said, BLHS coach Steve Hopkins made clear the importance of frequent water breaks. Hopkins is one of the more vocal coaches I've covered when it comes to player safety, his most recent comments coming during a story recently published on basehorinfo.com concerning concussion management. Meanwhile, I finally avoided the horrendous decision of wearing jeans or slacks in 95-degree heat. Thanks to a pair of shorts and a mug of water, I made it home sans heat stroke.